Pigs are horses, girls are boys, war is peace
Nazma Yeasmeen Haque admires Arundhati Roy's analytical mind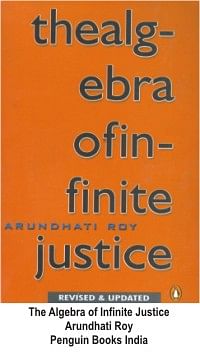 As Arundhati Roy refuses to be known as a 'writer-activist' only because she has been writing political essays since she won the Booker Prize in 1997 for her debut novel, The God of Small Things, a formidable writer emerges with an awesome repertoire of ideas, words that are her powerful arsenal and logic that is absolutely irrefutable. To her the term 'writer-activist' is despicable and brings to her mind an image of the 'sofa-bed' which primarily is a sofa, however much it may be transformed into a bed. In the same way, a writer remains fundamentally a writer whether s/he chooses to write fiction or non-fiction, she argues. She moreover reminds us that although her first book is a work of fiction, nevertheless it is no less political than any of her essays. And exactly this is the point that has been missed by some of us.
The Algebra of Infinite Justice is a collection of eight essays centering on topics drawn from events both national and international, demanding immediate attention and action on the part of any conscious individual not to speak of a government. In the first essay, 'The End of Imagination', written immediately after India detonated a thermounclear device in 1998, she passionately and very logically explicates step by step the horrors of destruction perpetrated by the human race of whatever exists for us, around us and might have been there for us. As one reads myriads of brief sentences that describe an impending catastrophe for humanity caused by humans, a sensitive mind, while reading, experiences the full impact of it because every word, every expression comes alive through the masterly stroke of her pen, reflecting an extraordinarily enlightened and receptive mind. She reminds those who are religious that this bomb is 'Man's challenge to God.' It says, "We have the power to destroy everything that You have created." On the other hand, to those who are not religious, she warns, "This world of ours is 4,600 million years old. It could end in an afternoon." There cannot be any stronger protest against nuclear weapons than these laconic sentences.
In her second essay, 'The Greater Common Good', Roy deals with the tradition of building Big Dams in a number of countries, particularly India, exposing the ulterior motives of rich countries in this pursuit where the demerits of their actions far outweigh their merits in terms of cost benefit when assssed in a comprehensive way. She charges that the first world has found that big dams do not serve the purpose for which they were built; and so "they are being decommissioned, blown up." Since it has been proven beyond doubt that they do more harm than good, they are being exported to countries of the third world in the name of Aid for Development. The way other wastes, like old, obsolete weapons, almost unusable aircraft carriers and banned chemical pesticides are being exported to third world countries as aid as exactly was colonialsim, countries are made to suffer at the whims of their own governments in collusion with the so-called big companies that operate in the first world. The writer makes it all too public. All her deliberations in this regard centre on the construction of a big dam on the Narmada river valley that flows through three states of India. Meanwhile, she brings in examples of Big Dams financed by the World Bank and other financial institutions that have created more miseries that were deliberately overlooked by their mentors. The author does not spare the government of her country as she explicates its double standards in commissioning the Farakka Barrage in relation to Bangladesh's need. Her essay on Power Politics states very boldly the agonizing effects of privatising natural resources like earth, forest, water and air where private bodies take control and supervise all functions, thus entering into a contract of bribe-giving and bribe-taking where the lesser men of the third world oftentimes are deprived of their shares of the profit.
In her next essay, 'The Ladies Have Feelings, So...,' the author talks about the awful impact of corporate globalisation in developing countries which runs parallel to curses like war, genocide, ethnic cleansing, famine or epidemics, albeit to a greater intensity as it cripples a nation by breaking its spine. Roy raises a number of pertinent questions regarding the actual situation of globalisation as preached and practised. She cites many examples of the ill effects of it of which one can be narrated at this point. India, although it produces more milk, more sugar, more foodgrains than ever before, nevertheless, under the terms and conditions of the World Trade Organisation, was made to lift restrictions on importing 1,400 commodities, including food the country produced as bumper harvest. Through a number of other equally practical examples, Roy unmasks the motives of the WTO, which is simply a means of exploiting some countries with which it is engaged in absolutely unequal trade.
In the article, 'The Algebra of Infinite Justice' after which the book is titled, the author explains why the name of the military operation in Afghanistan immediately after 9/11 was changed from 'Operation Infinite Justice' to 'Operation Enduring Freedom', although the latter is as meaningless as the former; nevertheless, since Muslims might feel insulted (!) at calling a human act infinite, which job ought properly to be attributed to Allah only, the name was changed as suggested by some. The author characteristically is very much sarcastic about the duplicity of American policies in the third world, policies that are so freakish in their faculty of thinking that she comments, 'Witness the Infinite Justice of the new century. Civilians starving to death, while they are waiting to be killed." Right at this point she traces back the history of American involvement in Afghanistan and exposes the machinations behind their action in relation to their underlying motives. She bombards the actors with myriad questions. She twice gives a list of the countries with whom America has fought its premeditated wars, adding that the lists are by no means comprehensive. Also, the American government's nefarious activities in keeping armed conflict in the poorer nations of the world going in order to have its weapons manufacturing industry thrive has been bared. The most free nation in the world and the International Coalition Against Terror work in cahoots, their sights on making profits from the miseries of others, she contends. All these are presented elaborately and very tersely in the scholarly essay, 'War is Peace.' She makes it sound most hilarious as she states that when President George Bust announced the air strikes in Afghanistan, he declared, "We're a peaceful nation'. It was echoed by Tony Blair, whom Roy describes as 'America's favourite Ambassador' who '.. also holds the portfolio of Prime Minister of the UK' ("We are a peaceful people"). The author comments, "So now we know. Pigs are horses. Girls are boys. War is peace." Her quick wit is amazing as is expressed in many an instance.
The author is so disgusted with American policies on the arms industry, the oil industry, its major media networks and foreign policy that she calls its administration "a pathologically meddlesome, promiscuous government." In her next essay, Democracy, she manifests her doubt as to its nature and identity which is borne by the sub-title, Who's She When She's at Home? Centering around burning of a large numbe of passengers on the Sabarmati Express that was followed immediately by ruthlessness in eliminating the Muslims in Gujarat and by an extension in India, the author bashes the hydra-headed communalism and in particular communal mentality of the rulers and draws a parallel between contemporary India and pre-war Germany.
Every essay of her centres around a topic that is the need of the hour, that threatens humanity, that must be addressed now or never. Every essay is substantiated by details as fine as possible following a logical discourse of argumentation. One of the most powerful and responsive writers of our times, Arundhati Roy is an icon of the highest level of erudition, originality in imagination and thinking, a fearless mind and with a heart that is as sensitive as a poet's. Some architectural designs are noticeable on the cover page in the title of the book that very well may imply the chaotic situation created increasingly throughout the world where nothing is at peace. It is not human justice that can be infinite, for infinity is an act of the Creator and is beyond human knowledge of counting. Perhaps that is why the term algebra might have been used. In spite of very difficult times closing in on the human race, Roy nevertheless does not resign herself to defeat. She simply will not let us "forfeit our right to dream."
Nazma Yeasmeen Haque is a political and social critic and Principal, Radiant International School, Dhaka.