Hatirjheel-begunbari Khal Project
Work to be completed on schedule: Mannan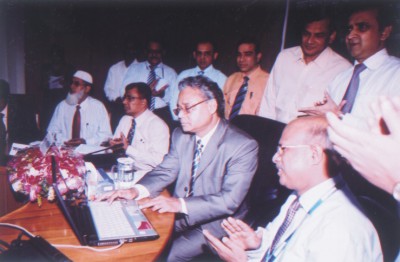 State Minister for Housing and Public Works Abdul Mannan Khan yesterday said the Hatirjheel-Begunbari Khal project work would be completed on schedule.
The work of the project is scheduled to be completed by June 2010.
He was addressing a review meeting on the project titled "Integrated Development of Hatirjheel area, including Begunbari Khal" at the conference room of the ministry with the authorities concerned.
He said if everything remains okay it would be possible to complete the project work timely.
The officials of different agencies, including deputy commissioner's office, told the meeting that the process of land acquisition of 139 acre of private land would be completed by the next week.
An official of DC said they would start distributing checks to the owners of the land just after receiving the money from Rajuk, which is supposed to get by next week.
Mannan at the meeting asked the authorities concerned to make proper follow-up to dispose of cases filed by the land owners in the project area as early as possible.
A total of 41 cases have been filed against 11 acres of land of the project areas, said an official at DC's office.
Expressing dissatisfaction at the delay in disposal of cases, he asked the officials concerned to take proper steps for their quick disposal.
The meeting decided to meet again on April 21 to review the progress of the project.
Professor Mujibur Rahman of Bangladesh University of Engineering and Technology (Buet), leader of the team that conducted the feasibility study of the project said they would try to complete the road embankment within the next three months.
The main objectives of the Tk 1480.98 crore Begunbari-Hatirjheel project are retention of rainwater to reduce waterlogging, flood protection and wastewater disposal, construction of walkways and roads around Hatirjheel as well as to improve communication and reduce traffic congestion in the city.
Senior officials of public works ministry, Rajuk, DC's office and land ministry were present at the meeting.
Earlier, the state minister inaugurated an automation programme of the directorate of government accommodation to make the work of the directorate transparent.