Saint Martin's Island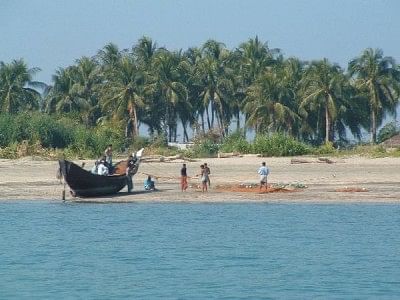 As the only coral island of Bangladesh, I can understand the interest it draws from us Bangladeshis. But do we have to go for the overkill and ruin it in the process?
For six months of the year, for three hours a day, more than four or five steamers laden with tourists descend on the island. Officially the figure is about three thousand, but unofficially it should be a lot more, since many come on private trawlers and boats as well. After they leave, the northern part of the island is littered with garbage of all sorts. These large ferries, they churn the water during their arrival and departure to such an extent that the corals on the northern tip have been choked to death and buried under the sand. More than once, there are documented reports of Green Ridley Turtles, either getting ensnared in the fishing nets, or attacked by stray dogs or scared off by gawking tourists when they come to the shores for laying their eggs. The original 50+ families have expanded to more than 5,000 members, also placing increasing demand on the land.
The other damage that is being done is by the permanent structures that are being built all over the island in the name of tourism by unscrupulous private developers which have no significance whatsoever with the island when they could have been easily modelled after the exclusive resorts of Bali. Perhaps the Maldives example is much more appropriate for St Martin's, whose atolls are just as fragile as that of our island. Over there, the government has leased out each island to just one resort each, collecting US 5.00 per day per guest as tax. Not withstanding the fact that because of such revenue sharing scheme and the resulting high per capita income of the tiny island-nation, it has also managed to attract well-off eco-tourists who are willing to pay dollars for the pristine-ness of the place, along with scuba diving and water sports. How much is our government earning in revenue from the island while exhausting the fragile eco-system of that delicate place? With rampant digging of holes for the sake of fresh water, unscrupulous corruption in land trading, it will soon be like roasting the goose that lay the proverbial golden egg.
Another issue of St. Martin's that needs to be addressed is its strategic location and its abundant source of Uranium in its sands. With recent negotiations going on in terms of nuclear power plants and the shortage of this precious commodity world-wide, what should we do to protect it and then harvest it in the long run before they get washed away by removing of natural rocks for commercial exploitation that acts as a barrier against tidal surges?
Just by declaring the island an ecologically sensitive zone is not enough. The access to there has to be severely restricted and controlled, and should there be any tourism there, let it be controlled in a manner that also benefits the exchequer. Getting off from the ferries after they dock in Teknaf, I can only wonder how long these throngs of people can be supported on such fragile an island like St. Martin's. Does anyone care?