Fragments of a volatile world
Shohag's solo exhibit in Paris underway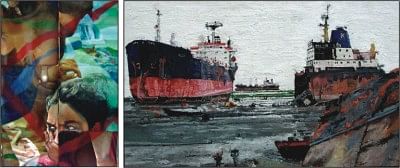 Imtiaj Islam Shohag is known for his images that appear fragmented and wrecked. His forms and compositions are unique, and he has an affinity for shapes and compositions. His colours are vibrant and create a correlation between forms and composition.
Shohag's works usually depict perilous incidents in our surroundings. He is especially concerned about the chaos of manmade disasters and natural calamities such as cyclones, storms and road-accidents that extract a heavy price on lives and assets. His adroit hands depict sinking ships, smashed cars and wailing people. A solo painting exhibition featuring the artist's works will soon begin at a private gallery in Paris.
Collages and broken glasses have been frequently used in Shohag's works. Shards of glass are placed on his canvas. The artist believes life is impacted by numerous incidents. Fragments indicate these incidents in our surroundings and help us to review our smallness. His canvas is assembled of many fragments and each piece refers to an untold story. In this sense, Shohag is a skilful narrator. He is also a sensitive artist as he draws attention to the extinction and near collapse of civilisations.
Shohag's works highlight a combination of contemporary geometric shapes and various abstract forms. The artist has used figures and motifs derived from his whimsical visions. Chaos or disorder is a recurring theme that represents the volatile state of world today.