Jessore GOC killed in chopper crash
Pilot Lt Col Shahidul also died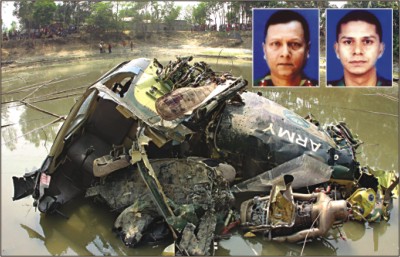 General Officer Commanding (GOC) of 55 Infantry Division and Jessore Area Commander Maj Gen Rafiqul Islam and pilot Lt Col Md Shahidul Islam died as an army helicopter crashed at Rouha of Kalihati upazila in Tangail yesterday morning.
Co-pilot of the helicopter Major Saif sustained serious injuries in the accident.
An Inter-Services Public Relations (ISPR) press release said the Bell 206 helicopter of Army Aviation crashed after hitting an electric cable around 7:50am.
Locals and witnesses told The Daily Star's Tangail correspondent that the helicopter first hit an electric line, then crashed into a banyan tree before falling into a pond.
The chopper was heading towards Mymensingh Cantonment from Jessore Cantonment to pick up the GOC of 19 Infantry Division. The helicopter's final destination was Dhaka Cantonment where the two GOCs were supposed to attend a conference at the Army Headquarters, the ISPR release said.
After the crash, locals recovered the dead and the injured from the wreckage.
An army team from Jamuna Cantonment, an army rescue team from Ghatail Cantonment, an Air Force rescue team from Pahar Kanchanpur Air Force Base, fire service, police and Rapid Action Battalion (Rab) rushed to the spot.
Injured Major Saif was flown to Dhaka Combined Military Hospital.
The bodies of the deceased were also airlifted to Dhaka, reports UNB.
Abdul Wares, a resident of Rouha, told The Daily Star correspondent that he was working in his paddy field when the helicopter crashed into the banyan tree. He ran to the spot and saw the helicopter fall into the pond.
"I pulled the dead and the injured out of the helicopter," he said.
After the accident, GOC of Ghatail Cantonment Maj Gen AKM Mujahiduddin, Commander of 98 Composite Brigade Brig Gen Nasimul Gani, Lt Col Shakil Ahmed Biswas, Tangail Superintendent of Police Abdul Mannan, Tangail Deputy Commissioner Maksudur Rahman Patwari, Tangail Rab Camp Commander Maj Nasir Uddin went to the spot and supervised recovery operations.
It could not be known why the chopper hit the electric cable.
Meanwhile, President Zillur Rahman, Prime Minister Sheikh Hasina and Leader of the Opposition Khaleda Zia expressed deep shock at the death of the two army officers.
President Zillur said the deaths caused an irrecoverable loss to the nation.
Hasina said the army lost two talented officers and the nation two of its best sons. "The tragic deaths of the two officers came as a double blow to the nation before it had overcome another shock," said the prime minister in her message.
Khaleda in her message said the nation suffered a great loss through the demise of Maj Gen Rafiqul Islam and Lt Col Md Shahidul Islam.
They prayed for the salvation of the departed souls and expressed sympathy to the bereaved families.
The ISPR release added that Maj Gen Rafiqul Islam was commissioned in East Bengal Regiment on December 25, 1977 and promoted to major general on March 8, 2007.