Special prayers across country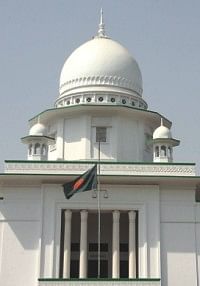 Islamic Foundation Bangladesh yesterday arranged milad mahfil, doa and special prayers across the country on the second day of the three-day national mourning in memory of army officers killed by some unruly members of Bangladesh Rifles (BDR) at its headquarters.
In Dhaka, special prayers were held at Baitul Mukarram National Mosque.
State Minister for Religious Affairs Mohammad Shahjahan Mian, Religious Affairs Secretary M Mamunur Rashid Chowdhury and Director General of the Foundation Shamim Mohammad Afzal attended the programme.
Khatib of Baitul Mukarram National Mosque Maulana Muhammad Salahuddin conducted the prayers.
Doa and special prayers were also held at divisional and district offices of the Islamic Foundation, seeking eternal peace of the departed souls of the victims and early recovery of those injured in the barbaric incident.
Prayers were also offered for peace, progress and prosperity of the country as well as greater unity of its people.