Iraqi forces can fill US pullout gap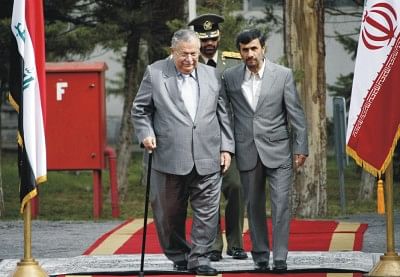 Iraq's leaders believe their forces have the muscle to ensure the country's security after US troops pull out under orders from President Barack Obama, but foreign advisors are less optimistic.
Only a day before Obama is to announce that US combat troops will leave by August 2010, Prime Minister Nuri al-Maliki said: "We have faith in our armed forces and our security services, to protect the country and consolidate security and stability."
Top US officials said Obama, an early opponent of the US-led 2003 invasion, would announce later on Friday all that combat forces would leave Iraq by August 2010 and there would be a full withdrawal by late 2011.
Some 142,000 American troops are now stationed in Iraq.
Under a so-called Status of Forces Agreement signed with Baghdad last year, Washington had already agreed to withdraw all its combat troops by the end of 2011.
Following the 2003 overthrow of Saddam Hussein, Iraq's US masters entirely dismantled the armed forces and police, starting the task of rebuilding amid a violent insurrection and confessional killings.
Today, after the expulsion of around 24,000 people with links to Islamist militia, the official strength of the police force stands at 560,000.
"There is no doubt that Iraqi forces are capable of ensuring the country's security. We have already tested them and they are capable of assuming their responsibilities and standing up to threats," interior ministry spokesman General Abdel Karim Khalaf told AFP.
The defence ministry now boasts a force of 260,000 troops, and has the ultimate target of creating one that is 300,000-strong. This would be armed with modern equipment, M-16 assault rifles and F-16 fighters whose acquisition is under negotiation.
In support of this, the government has earmarked eight billion dollars to the security forces in a major slice -- 12.6 percent -- of the 2009 budget.