Wenger wants one more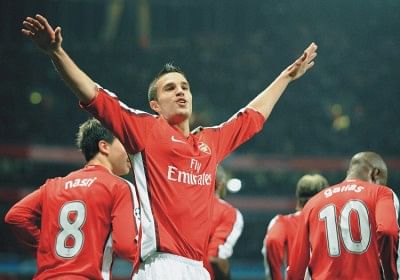 Arsene Wenger has warned Roma that Arsenal only need one goal to book their place in the Champions League quarterfinals.
Wenger's side will travel to Rome for the last 16 second leg clash on March 11 with a slender advantage after Robin van Persie's first-half penalty clinched a 1-0 win at the Emirates Stadium on Tuesday.
Following three consecutive goalless draws in the Premier League this was the sort of poised, passionate performance that Wenger has been waiting for from his team of precocious talents.
Even without Cesc Fabregas, Theo Walcott, Eduardo, Emmanuel Adebayor and Andrei Arshavin, they still stretched Roma's defence time and again.
The only flaw was their failure to add to van Persie's 37th minute spot-kick, awarded for a Philippe Mexes foul on the Dutch striker.
Nicklas Bendtner was guilty of two glaring misses and Samir Nasri and Emmanuel Eboue will also feel they should at least have hit the target with chances that came their way.
But the Gunners manager took heart from the way his team dominated for long periods and he believes their vibrant display proved they are more than capable of scoring the vital away goal at the Stadio Olympico that would tip the tie in their favour.
"It puts us in a position where we know we need to attack over there. If we score once that should be enough," Wenger said.
"You never know what a good result is in the European Cup but our pace gave them problems in the first half and in the first 20 minutes of the second half we had one chance after another.
"Of course there was room to score more but one of the positives is we didn't concede a goal.
"The next game will be an interesting one because they will throw much more forward."
Wenger's only concern is that his squad - already stretched to breaking point by injuries to Fabregas and company - could be hit by further problems before the trip to Italy.
Abou Diaby limped off in the second half with a recurrence of a calf injury and Arsenal still have league games against Fulham and West Bromwich Albion, as well as an FA Cup clash with Burnley in the next 10 days.
"We have three more games between this tie and the second-leg. At the speed we lose players it can be a difficulty for us," Wenger said.
"I am scared that we lost Diaby because he has a calf problem. Will anybody we back? We don't know. Could be Adebayor, maybe Eduardo but we are short in midfield at the moment."
The least Wenger should be able to expect in Rome is to see his team begin the match with 11 men on the pitch.
In an embarrassing start to the second half on Tuesday, Arsenal kicked off with nine men after William Gallas and Kolo Toure were late returning to the field.
Both were back in action within seconds of the restart but that wasn't quick enough to stop Danish referee Claus Bo Larsen booking Toure for his tardiness.
Wenger claimed the mistake was due to the Ivorian's desire to be the last player out of the dressing room.
"It's explainable by the fact that Kolo always goes out last. He waited for William but didn't know William had treatment," Wenger said.
"He didn't know the game had started without them. He was putting on his boots.
"I don't know if it is superstition. It is our fault. You have to be ready when the bell rings."
Although Roma were out-classed for much of the match, their manager Luciano Spalletti knows they are a different animal in their own environment.
The Italians have already beaten Chelsea at home this season and Spalletti expects a far more impressive effort from his team.
"I feel confident to say we have the same chances as Arsenal, maybe 49 percent for us and 51 for Arsenal because they have the goal," he said.
"But we can create chances and I'm sure it will be a completely different game in the second leg.
"I think the result is quite good considering the different between the teams in the first half.
"We should be completely different in everything compared to what we showed here."