Venus conquers Dubai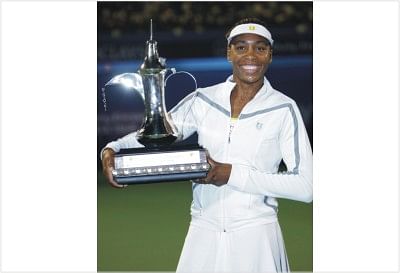 Venus Williams returned to the world's top five for the first time in six years on Saturday by clinching the 40th title of her career with a 6-4, 6-2 win over Virginie Razzano in the final of the troubled Dubai Open.
The last time Williams played Razzano in a WTA Tour final, two years ago in Tokyo, the French player saved three match points in the second set and went on to beat her.
Now Williams was a fitter and more secure player, most of the time serving better too, and her victory in the two-million-dollar event on Saturday was rarely in doubt once she had taken the first set.
En route to the final Venus also went ahead 10-9 in the head-to-head record with sister Serena, by beating the world number one in the semifinals.
"It was a great week to be able to win against the world's best player, my sister," said the Wimbledon champion.
It prompted the question as to whether she might also replace her younger sibling at the top of the rankings.
"Well I would love to be the best in the world - and I am coming. So I am going to try."
Both the crowd and Venus showed appreciation for Razzano, who produced another spirited performance after having beaten two top five players, Dinara Safina and Vera Zvonareva, along the way.
"I have to congratulate her," said Venus. "She beat some top players and played well again today."
Razzano made a fine start to the match, hitting some fierce drives, often counter-attacking brilliantly, and switching the direction of serves and drives cleverly.
She also served quite a lot to the body, denying Williams a decent swing at the returns, and applied a high proportion of pressure to the forehand side where, perhaps, there was a slightly greater chance of Williams breaking down.
But Williams was equal to the onslaught, and some rousing rallies ensued - until the seventh game, when Razzano took an injury break, apparently for a back problem.
It did not appear to have distracted or affected Razzano adversely, for she held serve for 4-4 and seemed about to reach 5-5 when she suddenly faltered.
At 40-30 she smacked a full-blooded forehand drive fractionally long, failed with a Hawkeye challenge and suddenly found herself under pressure at deuce.
This may have contributed to Razzano's net cord drive which fell short for Williams to put away and reach set point. Razzano's serve then made it possible for Williams to return adequately and follow up with a beefy forehand cross court to close the set out.
Williams then broke at once for 2-0 in the second set, with the help of a timely Hawkeye challenge at deuce on her drive which clipped the baseline and was incorrectly called out.
Before her next service game, Razzano sought a further respite by calling for a coaching break with Cederic Nouvel, but though she fought back spiritedly from 15-40 down to deuce she could not prevent the double break which completely altered the atmosphere of the match.
Although Razzano managed to get a break point in the next game she could not convert it, but though she broke Williams serve in the next game and saved three match points altogether there was too much to make up.
This was not entirely surprising given the experience and ability of the opposition - it was the seventh time in the last eight final appearances that Venus had won.