Hillary Clinton praises US-Asia ties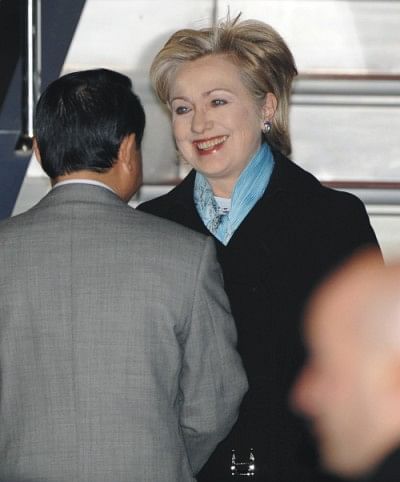 US Secretary of State Hillary Clinton -- the first American top diplomat in half a century to start her job with an Asia trip -- praised US ties with the region after arriving in Japan yesterday.
"I have chosen Asia on my first trip as secretary of state to convey that America's relationships across the Pacific are indispensable to addressing the challenges and seizing the opportunities of the 21st century," she said.
Hillary Clinton was set to meet Japanese leaders on Tuesday and the following day travel on to Indonesia, followed by South Korea and China.
"By strengthening our historic Asia alliances, starting right here in Japan, and forging new partnerships with emerging nations, we can begin together to build networks around the world to help us solve problems that none of us can solve alone," she said shortly after arriving at Tokyo's Haneda airport.
In her talks with Japan's leaders and citizens, she said, "we will be looking for ways to collaborate on issues that go beyond just our mutual concerns to really addressing the global concerns."
These would include "climate change and clean energy, Afghanistan, Pakistan, nuclear proliferation and other common concerns."
She added that "the bilateral relationship between the United States and Japan is a cornerstone in our efforts around the world," adding that Washington and Tokyo needed to work together to address the global financial crisis.
Hours before her arrival, Japan's economics minister warned that Asia's biggest economy shrank at the fastest pace in 35 years in the fourth quarter of 2008 and faces the worst crisis since World War II.
North Korea, also on Monday, fuelled speculation that it was preparing to test a long-range missile by suggesting in its state media it would go ahead with a rocket launch as part of what it called a space programme.