Chobi Mela V
Flashback: 1971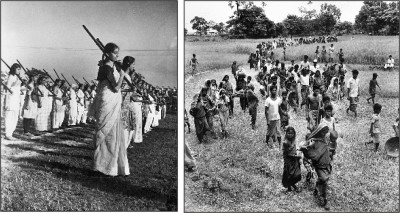 Drik Gallery-2 is one of the venues holding exhibitions as part of the ongoing Chobi Mela V. The photography exhibition titled, "Bangladesh 1971," featuring our Liberation War ended at Drik on February 9. On the closing day photographers shared their experiences of documenting the Liberation War with images at a discussion arranged by Drik. Veteran photographers Abdul Hamid Raihan, Rashid Talukdar and Sayeeda Khanam were the discussants at the programme.
Photographers and photo agencies featured in this exhibition were Abdul Hamid Raihan, Aftab Ahmed, Bal Krishnan, Begart Institute, Golam Mawla, Jalaluddin Haider, Mohammad Shafi, Naib Uddin Ahmed and Rashid Talukdar.
Abdul Hamid Raihan was born in Kushtia in 1932. "I grew up amidst the Second World War. In 1968, I bought a Yasaki camera and started taking pictures. In 1970, Bangabandhu visited Kushtia and that was the first time I took photos of Sheikh Mujib. The moment is forever etched in my mind. My lens captured various painful episodes during the Liberation War," he said.
Rashid Talukdar was born at Kalkini, in Madaripur district. His powerful and moving images remind the viewers of a glorious past. At the discussion, he said, "My father worked for the Railway Department and was transferred several times. There was no photographer in my family, so it was challenging for me to take up photography as a profession. Back in those days, the photo processing technology was rather poor. White was predominant after developing the images." Talukdar claimed himself as an "audacious" photographer and was always ready to face any tough situation. During the war, he snapped many outstanding incidents.
Sayeeda Khanam is another legendary photographer of our country. During the Liberation War, she was the only female photographer in our country. Her illustrious career is marked with remarkable experiences and incidents. She has been taking photographs for over half a century.