Zillur all set to be president
Only the AL leader submits nomination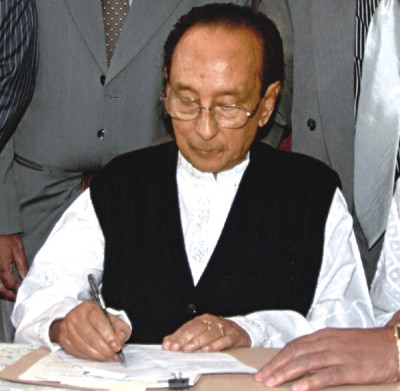 Veteran Awami League (AL) leader Zillur Rahman is going to be elected uncontested the country's next president as no one else has submitted nomination paper for candidacy in the presidential poll.
Chief Whip Abdus Shahid yesterday filed the application with the returning officer (RO) on behalf of Zillur Rahman for his candidacy as the party's nominee for the election.
Chief Election Commissioner ATM Shamsul Huda, who is the RO for the presidential election, received only one application as of 4:00pm yesterday, the last date for filing nominations. He will scrutinise the application today.
After filing Zillur's nomination paper, Abdus Shahid said they hope Zillur Rahman, also an AL lawmaker and deputy leader of the new parliament, will be elected president unanimously.
In the application, AL lawmaker and party's Presidium member Syeda Sajeda Chowdhury proposed Zillur's name as the party's presidential nominee and the chief whip seconded the proposal.
The presidential poll scheduled for February 16 will not be held since no one else is contesting and the RO may declare Zillur elected on Wednesday afternoon after expiring of the time for withdrawal of candidature.
Following the RO's announcement, the EC Secretariat will publish the official gazette of the election result.
So, the new president will take the oath of office any day before February 16 and the era of President Iajuddin Ahmed, who was mired deep in controversies for his role, will end.
Iajuddin's tenure expired last year but the presidential election could not be held because of the absence of an elected parliament.
According to the constitution, the presidential election must be held within 30 days of the inaugural sitting of a new parliament.
Zillur Rahman will have to resign from parliament before taking oath to the country's top most post, which will increase the number of vacated parliamentary seats to seven.
Earlier, AL chief Sheikh Hasina, BNP Chairperson Khaleda Zia and Jatiya Party Chairman HM Ershad, who were elected in three seats each, vacated six seats before taking oath as lawmakers.
The by-elections to the vacated seats are supposed to be held within 90 days of their falling vacant. Officials at the EC Secretariat are making preparations for holding the by-elections at the end of March but the polling dates are yet to be finalised.
With Zillur's election to the presidency, the post of deputy leader of the House will also fall vacant. The AL parliamentary party will have to elect one to the post.