Citycell B League
Abahani retain title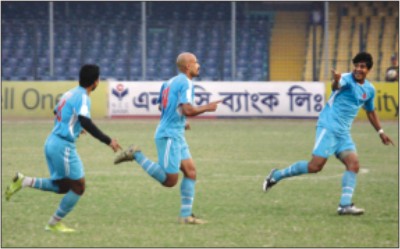 The professional football league trophy remained at Abahani as they collected the vital points from yesterday's Citycell B. League match to put an end to a three-way race in the competition's second edition.
Needing just one point against Sheikh Russel, the inaugural B. League winners recorded a 2-1 victory to retain their title with a match in hand.
Arif Khan Joy struck in the first-half stoppage time while Zahid Hasan Emily added the second 11 minutes after resumption as Abahani stormed to their eighth consecutive victory.
Alfaz Ahmed regained his top-scorer's position with a dying second goal -- his 15th -- but his team did not have enough time to go at it again and try spoiling the championship party.
Amalesh Sen's champions, who play their last match against Rahmatganj on February 16, moved to 47 points with their nearest rivals Mohammedan and Sheikh Russel level on 35.
Abahani's celebrations, however, was not very vibrant as expected. It was difficult to be moved much by only a few hundred fans who watched the Sky-Blues continue their domination at the Bangabandhu National Stadium.
Abahani, who crushed the same opponents 3-0 in the first leg, got off to an ordinary start and a depleted Russel attack -- missing suspended Moroccan striker Samir Omari -- twice threatened to go ahead.
But Waly Faisal's inspired defending denied Mobarak and Alfaz inside the area before Abahani created their first chance.
It was Pranotosh who got into the penalty box from the right on the half hour but Russel keeper Azam left his post to grab the ball timely.
The Sky-Blues came alive in the 45th minute but Emeka nodded the ball onto the crossbar after hard work by Ibrahim on the right.
Russel had to replace injured Azam immediately after that and Joy finally separated the two sides six minutes into the added time.
Joy hit the side post from Abul's low corner but Emily sent it back to Nazrul, whose attempt came off a defensive wall to Joy. The shaven-headed midfielder's volley from outside the box took a wicked deflection and beat substitute custodian Titu for his first league goal.
Amalesh's men began the second half brighter and Emily sneaked through two defenders into the area, latched onto a through by Emeka and went round the keeper to poke in a left-footer for his 12th goal in the competition.
Titu palmed away an Ibrahim chip over his bar in the 67th minute and Pranotosh's stinging volley from 18 yards on the resulting corner rattled the crossbar as Russel looked to settle for a bigger defeat.
The Emily-Emeka-Ibrahim trio toyed with Wajed Gazi's weak backline but the relentless pressure did not materialise.
Substitute midfielder Mamun twice split the rival defence with super crosses but Emeka's header cleared the bar while Emily's effort was denied by Titu, who spilled a tremendous 35-yarder from Mamun in the 85 minute but thankfully, Zahed Parvez was late to collect the rebound.
Emily then fluffed on one-one-on as the national striker side-footed Mamun's square pass wide in the 90th minute.
Abahani were punished for relaxing in the two-minute injury time as Rajan escaped at the right wing, chipped with his right foot for Alfaz to glance home a header off Abahani goalkeeper Biplab's near post from close range.
Seconds after the restart, it was all over.
Yellow cards: Emeka (Abahani) and Moujahid (Russel)
TEAMS
ABAHANI: Biplab, Nazrul, Sujan, Samad, Waly, Abul (Zahed), Pranotosh (Mamun), Joy, Emeka, Ibrahim (Siraji) and Emily.
RUSSEL: Azam (Titu), Aminul, Zahirul, Hassan, Rajan, Mobarak, Moujahid (Prashanta), Maric, Monwar, Alfaz and Morshed.
Referee: Azad Rahman.