Coffee shop of freedom for trafficking victims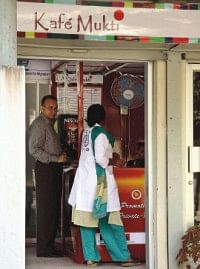 Kafé Mukti, a coffee shop of freedom was opened recently for the victims of human trafficking in the country to help them become self-reliant in life by providing them with jobs.
Four cafes managed by women victims of human trafficking were launched by International Organization for Migration (IOM) in Dhaka as a pilot project.
The first one was opened in North South University in Kemal Ataturk avenue in June last year. After its huge success three more cafes were opened on January 12.
Located in department of social welfare, department of women affairs and the secretariat building, these small coffee shops are already grabbing attention.
Eight women from shelter homes of Dhaka Ahsania Mission (DAM), the Bangladesh National Women Lawyers' Association (BNWLA) and Thengamara Mahila Sabuj Sangha (TMSS) were appointed at these coffee shops as managers and salesperson.
One of the managers of Kafe Mukti rescued from Jessore eight months ago said, "The biggest mistake of my life was to trust the wrong person with a bad intention. But I found hope after a long, long time. It feels as if I have been given a second chance in life"
Another lucky girl with a future plan said, "I plan to set things right now by using this opportunity. When I am ready I would like to buy some land and settled down"
Kafé Mukti is a venture of an IOM project "Prevention and Protection of Victims of Human Trafficking in Bangladesh", which is supported by Bangladesh government, Norwegian and Danish Embassies in Dhaka. Nestle group provided with free coffee vending machines at these shops.
Zakia K Hassan, National Programme Officer of IOM said, "'As the name suggests, Kafé Mukti' is a symbol of self reliance and economic emancipation of the oppressed women. We plan to develop the café as a model for empowerment of women trafficking victims in Bangladesh"
"The society usually isolates these women. By making them self-reliant we want to give them back their dignity and lost status in the society. Creating acceptance is also a goal", she added.
More coffee shops will be opened soon, she said. However, in the future the project aims to venture in other areas of trade and business as well to incorporate these women in to the mainstream with ease, she mentioned.
These women are also being trained in management and accountancy to run the cafes. In the future they will be introduced to many other traits including laundry, salesmanship, beauty salon service and more, she said.
Grants will also be provided to help them step forward with the newly obtained knowledge.
Portion of the profit earned from the cafes will be given to the managers. Part of it will be used to further expand the project.
The initiative would inspire others to create similar opportunities for women facing oppression in the society, Hassan hoped.