<i>Two govt schools of same name on same compound</i>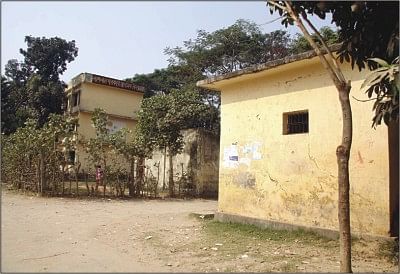 The names of the two schools are the same -- National Government Primary School. They share same premises and same playground. But they have two headmasters, separate administration, separate students and teachers.
The two primary schools have been running in city's Mirpur section-2 since 1973. The then authorities recognised the morning shift and day shift of the schools and enrolled them separately.
Another set of two government primary schools is located in Mirpur section-1.
Locals said these twin schools, founded in 1965, are still showing the discriminative attitude of the Pakistani rulers who arranged separate shifts for Bangalee and non-Bangalee students.
However, both the National Government Primary School (morning shift) and National Government Primary School (day shift) have expanded over the years and are now running in double shift -- morning and day with around 700 students.
Kanchan Mia, headmaster of the school (morning shift), could not see any logic behind running two government primary schools on the same premises.
"People may think this is one school, but we are two different schools with separate administration and building," he said. Both the schools used one building for over two decades.
Bashonti Rani, headmaster of the school (day shift), could not say why the two schools with the same name are located on the same premises.
"I was a student of the day shift before independence. At that time it was one school with two shifts, said Rojob Ali, a resident of H block, Mirpur Section-2. "The morning shift was for the Urdu-speaking students and the day shift for Bangalee children.
The Urdu-speaking non-Bangalees dominated Mirpur area before independence.
Daud Masud Babul, another ex-student of the National Government Primary School, said, "Due to pressure from the non-Bangalee guardians, the school administration was very strict against mixing of Bangalee and non-Bangalee children."
Munshi Bazlul Basit Anju, councillor of DCC ward-7, where the National Primary Schools are located, said the school was split because of the discriminatory attitude of the Pakistani rulers. Anju too studied in a such twin school. He was a student of Bengali Medium Government Primary School at Uposhahor in Mirpur Section-1.
Md Nazrul Islam Khan, director general of the Directorate of Primary Education, said, these schools were established in the Pakistan era and Bangladesh government enrolled most of the primary schools in 1973.
During the enrolment the government combined such joint schools in the city but these two sets of primary schools were somehow left out, he added.