Zardari-Gilani rift widens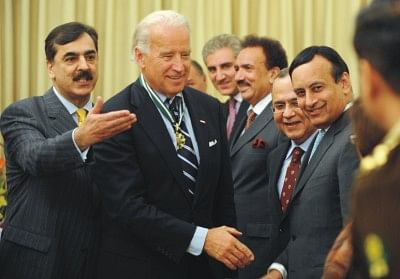 The US has asked Pakistan to withdraw the sacking orders of Mahmood Durrani as national security adviser, a move that laid bare the widening gulf between President Asif Ali Zardari and Prime Minister Yousuf Raza Gilani and the lack of coherence in tackling crucial issues like the Mumbai attack probe.
The issue has snowballed with officials disclosing that US Ambassador Anne Peterson on Thursday night met Zardari and Gilani at the presidency and "insisted on withdrawing dismissal orders of Durrani".
"Where's the government and who's running it? What type of government do we have? Where are the decisions being taken?" asked Pakistan Muslim League-Nawaz (PML-N) Hanif Abbasi, two days after Gilani sacked Durrani for not consulting him before announcing that the sole Mumbai attacker Ajmal Kasab was a Pakistani citizen.
Gilani has been quoted as saying that Durrani did not take him into confidence before making the announcement in a media interview.