<i>New cabinet radiates hope on first day</i>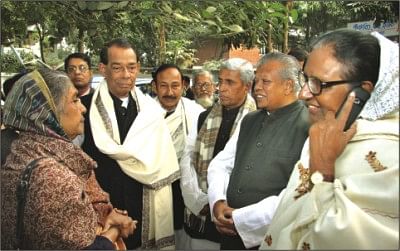 Prime Minister Sheikh Hasina and her cabinet colleagues on their first day in the new government yesterday joined offices with promises to fulfil their electoral pledges to the people.
Before going to her new office in the morning, the premier advised her ministers not to waste even a day, and to work fervently throughout the five-year tenure for development of the country in service of the people.
Hasina began her maiden day as the premier by paying tribute to her father also the supreme leader of the country's liberation war, Bangabandhu Sheikh Mujibur Rahman.
She went to Bangabandhu Memorial Museum at Dhanmondi Road No 32 around 8:20am and placed a wreath at her father's portrait.
She also offered prayers for his departed soul and spent some time there before heading for the National Memorial in Savar to pay homage to liberation war martyrs.
A smartly turned out contingent of the three armed forces presented an armed salute to the memory of the liberation war heroes at the memorial.
Hasina, who is also the president of Awami League (AL), planted a bokul sapling at the memorial and signed the register book writing down a promise to the martyrs, "To fulfil the dream of the father of the nation, Bangabandu Sheikh Mujibur Rahman, we will build a Golden Bangla by bringing smiles to the faces of lakhs of downtrodden people. Bangladesh's soil is moistened with the blood of lakhs of martyrs. We will carry out the sacred duty of upholding the glory of that self-sacrifice. We vow to be ready for any sacrifice. Our salute and respect to the martyrs."
The new ministers and lawmakers, the chiefs of three armed forces, and senior AL leaders accompanied the prime minister.
From Savar, Hasina went straight to the Prime Minister's Office (PMO) around 10:25am to a hearty welcome from her staff. Cabinet Secretary Mohammad Abdul Aziz, and PMO Secretary Kazi Aminul Islam received the new premier with flowers.
A smiling Hasina entered the PMO yesterday after seven years, spending the first hours going through newspaper clippings and government documents. The last time she was in that office was on July 15, 2001.
The chiefs of three armed forces paid a courtesy call on the head of the new government in the afternoon. Army Chief Gen Moeen U Ahmed, Navy Chief Vice-marshal Sarwar Jahan Nizam, and Air Force Chief Air Marshal SM Ziaur Rahman met Hasina together, and congratulated her on her assumption of the PMO.
Hasina also had meetings with her principal secretary, military secretary and the PMO secretary yesterday.
She left the office around 2:30pm for Gonobhaban and returned around 6:00pm.
Meanwhile, Bangladesh Secretariat witnessed a very lively day yesterday after quite a long time, as the country's administrative hub donned a festive look with members of the new cabinet spending their first day in offices.
Coming out of government vehicles allotted for them, they entered their offices one after another and exchanged greetings with their staff, who welcomed them with flowers.
In their immediate reactions, the ministers said they will work to fulfil their pledges to the people. They met with senior government officials who apprised them of the latest developments in the ministries.
"She directed us to work hard for the welfare of the people from the very first day," Agriculture Minister Motia Chowdhury told reporters in her office referring to Hasina and adding, "She told us not to waste any time."
Home Minister Advocate Shahara Khatun had meetings with senior officials of her ministry and law enforcing agencies in the afternoon to evaluate the country's law and order situation.
While giving her reaction to journalists, she warned those who are involved in post-election violence. She also warned the police about intentional harassment of people in their hands.
"We will try to root out terrorism and militancy by finding out the reasons," said Bangladesh's first woman home minister. "To root out corruption, terrorism and extortion we have to find their sources," she added.
On a more personal note, Minister for Education and for Primary and Mass Education Nurul Islam Nahid told The Daily Star in his office, "I will remain the same person I was before I became a minister."
He also said his door will remain open for all, so anyone may go to him with allegations or complaints about the performance of his ministry.
Talking to The Daily Star, State Minister for Liberation War Affairs Captain (retd) ABM Tajul Islam also echoed the spirit, saying, "You don't really need to change yourself to serve the people."
Prime Minister Sheikh Hasina and her 31 cabinet colleagues were inducted into their offices on Tuesday evening ending almost a two-year regime of a military backed caretaker government headed by Dr Fakhruddin Ahmed.