Bleak outlook forecast for 2009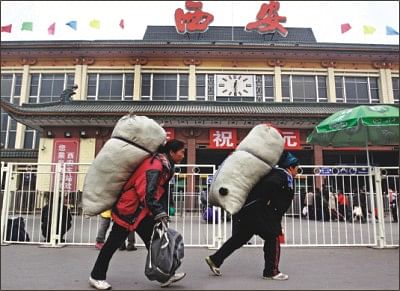 European and Japanese officials on Monday warned the global downturn would worsen despite hopes that US president-elect Barack Obama could galvanise the world's largest economy with a new stimulus plan.
Fresh reports out on Monday also painted a gloomy picture, with Japan announcing its worst car sales since 1974 and the iconic Irish china and crystal maker Waterford Wedgwood saying it was on the verge of bankruptcy.
Economic uncertainty means "it's quite possible that the recovery won't start until the beginning of 2010," European Central Bank vice president Lucas Papademos told German weekly WirtschaftsWoche in an interview published Monday.
That warning came as Japanese Finance Minister Shoichi Nakagawa said that Japan had been hit by a rare downturn in global financial markets and that the prospects for the second biggest economy in the world were getting worse.
"The Japanese economy has experienced falling exports and production. Consumption has also turned stagnant and the economy is worsening," he said. Japan has been officially in recession since September last year after the country's gross domestic product (GDP) shrank for two consecutive quarters.
Greater optimism about the US economy, however, was sufficient to boost the Tokyo stock market on its first day of trading in 2009, with the benchmark Nikkei index closing up 2.07 percent after a disastrous performance in 2008.
"Stocks are gaining support from the stronger stock market in the United States and expectations of a recovery in the US economy this year," said Makoto Sengoku, a market analyst at Tokai Tokyo Securities.
European stock markets inched up in early afternoon trading. The FTSE 100 index in London was up 0.36 percent, Frankfurt rose 0.53 percent and Paris gained 0.11 percent despite a plunge in French car sales in December.
In Germany, Europe's biggest economy, the fractious governing coalition discussed a new economic stimulus plan potentially worth tens of billions of euros (dollars) in a bid to stave off the country's worst post-war recession.
Wall Street shares had soared on Friday, with the Dow Jones rallying 2.94 percent, and a further boost was expected on Monday as Obama meets key congressional leaders to discuss a new economic stimulus plan.
Obama's economic rescue plan also pushed up the dollar on currency markets.
The dollar rose to 91.99 yen in Tokyo afternoon trade on Monday, up from 91.79 yen in New York late on Friday. The euro fell to 1.3886 dollars from 1.3910 and to 127.69 yen after 127.72.
But Obama advisor Lawrence Summers, tapped to head the new White House National Economic Council, wrote in the Washington Post that the next 12 months herald "the bleakest economic outlook since World War II."
Oil prices were virtually unchanged after recent strong rises fuelled by the Israeli-Palestinian conflict and as Iran said the OPEC cartel was preparing a special meeting next month.
OPEC has been struggling of late to shore up sagging prices and last month agreed to reduce output by 2.2 million barrels a day.
Brent North Sea crude for delivery in February edged down one cent to 46.90 dollars a barrel in late morning trade on London's InterContinental Exchange.
New York's main contract, light sweet crude for February, gained 16 cents to 46.50 dollars.
However analysts said the rally was unsustainable because of low energy demand caused by a weak global economy.
"I'm not confident of the market rallying again," said Mitsubishi Corp energy expert Tony Nunan.