Ringing in the New Year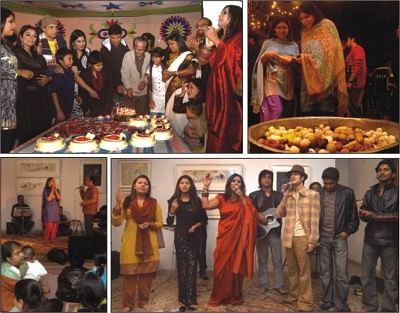 It was a shindig of a different kind; more like a dignified 'adda'. The venue: Bengal Shilpalaya, Dhanmondi. Hosts: Singer Fahmida Nabi and celebrity beautician Kaniz Almas. The occasion: First day of 2009.
Though the list of guests included the who's who in the cultural arena, the "most important" among the invitees were journalists -- from both electronic and print media -- as Fahmida Nabi put it. Each guest was asked to bring 'mishti' (any kind of sweets/ dessert), which were all accumulated in a huge platter.
Tanvir Alam Shawjeeb was the first to perform in the live music part of the evening. Shawjeeb did covers of SD Burman classics including "Ghum", "Ke jash rey" as well as his song "Kobey jabo pahar-e" (from the "Jhalmuri" albums). TV personality Shahidul Alam Sachchu kept the mood jovial -- at times being cheeky and occasionally at others' expense, making jokes.
Veteran media personality Mustafa Monwar was seen swaying to the rhythm and melody. Abul Khair Litu, chairman of Bengal Foundation, and Luva Nahid Chowdhury, managing director of Bengal Foundation, attended the event.
Gradually more artistes, musicians, and film, ad and TV play directors including Afzal Hossain, Mostafa Sarwar Farooki, Chayanika Chowdhury, Giasuddin Selim, S.I. Tutul, Partha Barua, Sweety, former "Close Up 1" champion Salma and previous finalists from the show, Topu, Tisha, Shajal and others joined in.
Fahmida Nabi and Partha Barua sang with "Close Up 1" stars; actor Tisha chimed in Topu, vocalist of the band Yaatri.
Seems like a good start. Hopefully 2009 will see the Bangladeshi cultural arena thrive.