Vote for 4-party for peace, development
Khaleda urges voters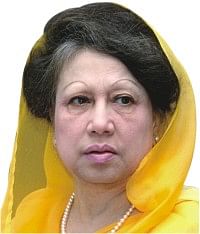 In a whirlwind election campaign in the city, BNP Chairperson Khaleda Zia last night sought votes for the four-party alliance candidates in different Dhaka constituencies.
Hundreds of party leaders, activists and supporters standing on both sides of the city roads greeted the former premier and chanted slogans in support of the BNP and its alliance.
A large number of curious women, girls and children came out of their houses to have a glimpse of Khaleda.
Khaleda waved at them from her car escorted by the Special Security Force and other law enforcement agencies.
After completing the recording of her address to the nation at Bangladesh Television studio at Rampura, the BNPw chief started her campaign around 10:00pm from Khilgaon. Bangladesh Television, BTV World and Bangladesh Betar will broadcast her speech along with that of Awami League President Sheikh Hasina today evening.
In a brief speech at Khilgaon Staff Quarter, Khaleda called upon the voters to cast votes for the four-party alliance nominees.
"Cast your votes for the BNP candidates to keep the development activities of the previous BNP-led four-party alliance government continuing," Khaleda said at another rally at Basabo around 11:00pm.
She also urged city dwellers to attend the BNP's rally at Paltan Maidan today.
Khaleda's motorcade even visited the narrow roads of AGB Colony and Railway Colony at Motijheel and Shajahanpur.
Members of the law enforcement agencies had to struggle to control the crowd desperately trying to have a glimpse of the BNP chief, who visited most constituencies in the city.