Vote for peace, not terrorism
Hasina tells Lalbagh rally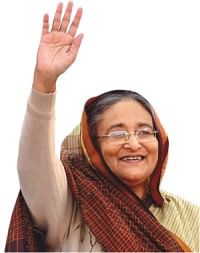 Awami League (AL) President Sheikh Hasina yesterday urged people to secure victory of peace over terrorism and development over corruption by giving mandate to her party in the December 29 parliamentary election.
The AL chief warned against any attempts by any quarters to obstruct voting. "Your vote is your right. You will cast your vote for whoever you like, " she told an election rally at Lalbagh Balurmath in the capital.
"You know the BNP-Jamaat alliance came to power by rigging votes. It was evident as 1.23 crore fake voters were on the voter list prepared during their rule," the former premier said, urging people to vote for the AL-led grand alliance.
She alleged that victory was snatched from the AL in the 2001 election through huge fake voting, and urged voters to remain alert this time.
Hasina said the caretaker government could not contain price rise of essentials that caused sufferings to people. But with the help of the armed forces, it prepared a voter list with photographs which is a milestone in strengthening democracy.
Introducing grand alliance candidate for Dhaka-7 constituency Mostafa Jalal Mohiuddin at the rally, the AL president said Jalal is educated, honest and dedicated to the cause of people. But BNP candidate for the constituency Nasiruddin Ahmed Pintu is involved in crimes and corruption, she alleged.
If voted to power, Hasina said, they will ensure adequate electricity and water supply in Lalbagh and Kotwali areas, and solve their residential problems.
Later, she addressed two rallies at Joypara Baramath in Dohar and Nawabganj Pilot High School ground, and sought vote for AL candidate for Dhaka-1 constituency Abdul Mannan Khan.
She assured locals that if voted to power, they would make Nawabganj a municipality, ensure gas supply and construct a bridge on the Buriganga river at Madhya Basila for easy communication with the capital.
Hasina also pledged that they will take steps to resolve problems of all sections of people including farmers, weavers, blacksmiths and potters.
The AL chief warned people about her party's political rivals saying, " They will try to buy your vote, but don't sell your 'Iman'."
At the rallies, the former premier reiterated her pledge to provide job for at least one male or female member of each family, give bank loan to unemployed youths without any collateral, bring down prices of essentials and make education up to degree level free, and set up community health clinic for every 6,000 people.
On her way back to the capital, Hasina addressed a street rally at Keraniganj for Dhaka-2 constituency candidate Kamrul Islam. Later, she conducted a few electoral campaigns through video conferencing from her residence Sudha Sadan at Dhanmondi.