<i>'Hide and seek' Sarwar</i>
Fewer assets shown in his wealth disclosure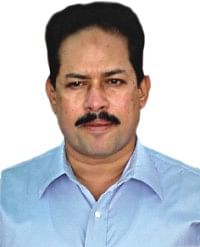 Four-party alliance nominee for Barisal-5 constituency, Majibor Rahman Sarwar, has shown fewer assets in his disclosure to the election commission (EC) than what he declared to the Anti-Corruption Commission (ACC) earlier.
In his wealth statement submitted to EC, the former mayor claims he owns wealth worth around Tk 5.37 crore only whereas in the statement submitted to ACC, he had disclosed wealth worth Tk 8.28 crore.
In reality, Sarwar owns far more wealth than he has declared. An investigation by the anti-graft body has already found his actual wealth to amount to Tk 25 crore.
STATEMENT TO EC
Sarwar's affidavit accompanying his nomination identifies himself as a businessman and shows his annual earning at Tk 4.98 lakh. The bulk of that money comes from house rent while Tk 30,000 is earnings from his agricultural land.
He has declared having Tk 11.95 lakh in cash, Tk 37.87 lakh deposited in different banks and financial institutions, shares worth Tk 60 lakh and furniture worth over Tk 7 lakh. He also posseses three vehicles, 50 tolas of gold and three firearms.
He also has a Tk 2.11 crore loan and he pays an income tax of Tk 36,200.
His wife Nasima Sarwar has Tk 1.84 lakh in cash, Tk 18.87 lakh deposited in banks and 30 tolas of gold jewellery.
Both Sarwar and his wife also own huge immovable property, including two houses, three apartments and two shops.
Sarwar is an accused in three criminal cases.
STATEMENT TO ACC
Sarwar, who was arrested on May 29, 2007 from his Dhaka residence previously disclosed Tk 8.28 crore of wealth in his statement to the ACC.
Sarwar has paid income taxes from the 1987-88 fiscal year under tax identification number TIN-421-101-4486. An investigation revealed that he gave false statements in income tax returns and evaded taxes of Tk 6.27 crore till the 2006-07 FY.
The National Board of Revenue (NBR) has filed two cases against him and his wife in this regard.
ACC INVESTIGATION
Meanwhile, an ACC investigation discovered huge wealth and properties belonging to Sarwar and his family members, including seven flats, land properties, shops and fixed deposit receipts (FDR) of Tk 1.12 lakh in the name of his daughter earned within the last few years.
The investigation found his total wealth, included all that he concealed, amounting to Tk 25 crore.
The commission has sued Sarwar and his wife for amassing wealth illegally and concealing information in wealth statements. It submitted the charge sheet against them on July 11 this year.