The making of Stop Genocide and disappearance of Zahir Raihan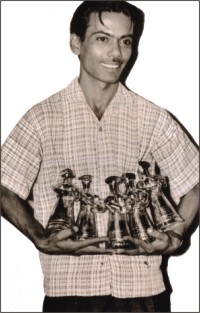 In January 1971, Zahir Raihan, one of the most gifted Bengali filmmakers, went to look for his elder brother and mentor, Shahidullah Kaiser, who was last seen in December 1971. Raihan was never seen again.
Raihan is considered one of the most gifted Bengali filmmakers. Apart from carving a niche in the mainstream with his films that represented the contemporary reality like "Jibon Thekey Neya" (addressing the Language Movement on 1952: a campaign for Bangla to be accepted as a national language that was violently suppressed by the Pakistani regime).
Among Raihan's films "Stop Genocide," an 18-minute documentary on the atrocities by Pakistani army during the Liberation War, is remarkable. The film highlights a parallel, drawn in the narration, between the genocides in Vietnam, Algeria and Bangladesh (during the Liberation War).
James Leahy, a film historian and screenwriter, goes over the inspiration and making of this documentary. Excerpts:
"...The Pakistani military actions quickly became a genocidal assault on the people of East Bengal. In all about 10 million refugees fled across the border into India, West Bengal...peasants, intellectuals, professional people, writers, filmmakers, politicians. Amongst the latter were the leaders of the Awami League, who proclaimed a provisional Revolutionary Government on the 17th of April. The government, whose headquarters was in Calcutta, set up a Department of Films and Publications. However there was only one among the refugee filmmakers who possessed the political vision required to work effectively at a time of revolutionary war. This was Zahir Raihan, a director of prize-winning features.
"Though a born filmmaker who could visualise a whole film without having to write a word on paper, Zahir Raihan had no experience outside the feature film. Thus he lacked the know how needed in these desperate wartime conditions. Fortunately in Calcutta his eyes were opened to new kinds of practice by exposure to films from Eastern Europe and Cuba, including those of Santiago Alvarez. The latter were clearly the major influence on his passionate and moving protest about what was happening in Bangladesh, 'Stop Genocide.'
"Its similarity to some of Alvarez's most powerful work is immediately apparent. It was made 'virtually on the editing table,' largely from stock, newsreel or found footage, and despite the fact that very little filmic material was available. One is reminded of Alvarez's 'Hasta la Victoria Siempre!' (1967), made in 48 hours for the public meeting at which Fidel Castro announced the death of Che Guevara.
"Stop Genocide was financed by Indian friends of Bangladesh, and was not supported by the exiled politicians and their Film Department. However the acting Prime Minister Tajuddin Ahmed saw its importance, whilst the Indian Prime Minister Indira Gandhi was visibly moved by it. She ordered her Films Division to buy it and circulate it internationally. The fact that the film's commentary was in English, not Bengali, increased the chances of its message, '100 My Lais took place in Bangladesh,' spreading worldwide.
"Nobody knows what happened to him...With him disappeared all hopes for the nationalised film industry, echoing Cuba's ICAIC, which he and some colleagues had planned in exile, and of which he was the most prominent advocate."
Compiled by Cultural Correspondent