Empty Promises In Barisal
<i>How will they now bridge this gap?</i>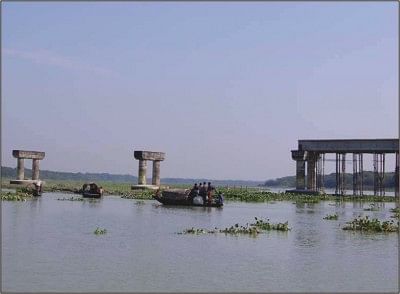 Construction of Taltali Bridge over the Taltali River has remained incomplete although the matter was included in the election pledges of three former lawmakers.
Former president Abdur Rahman Biswas, his son Nasim Biswas and former Barisal city mayor Mojibor Rahman Sarwar, who were elected lawmakers in three elections in the past, had promised construction of the bridge that would help establish a direct road link from Muladi, Hizla and Mehendiganj upazilas to Barisal city.
Former president Abdur Rahman Biswas initiated a project and laid its foundation on February 5, 1995.
Quotation for construction of the bridge was called on February 2 in 1996 at an estimated cost of Tk 1.83 crore and Moitry International got work order on April 8 in 1996 to finish its construction within 15 months.
But the firm left the project after collecting Tk 1.33 crore in October 1999 when less than 35 per cent work of the bridge and 90 per cent of related road construction work remained unfinished.
During the BNP-led four-party alliance government, fresh tender was called on February 2 in 2002 to complete the project at an estimated cost of Tk 1.19 crore.
But Roads and Highways Department (RHD) executive engineer stopped the procedure by issuing a letter on February 28, 2002.
Mojibor Rahman Sarwar, the then BCC mayor and former lawmaker, inaugurated resumption of the construction of Taltali Bridge on October 16, 2006 by extending the project cost from Tk 1.8 crore to Tk 4.7 crore. But the process again stopped in July this year.
Executive Engineer of RHD in Barisal said the authorities stopped the construction work after faults were found in the design and structure of the bridge.
After clearance from the technical department of RHD, construction work of Taltali Bridge will resume soon, he said.