Khaleda sees 2/3 majority again
Says greatest chance to save country comes Dec 29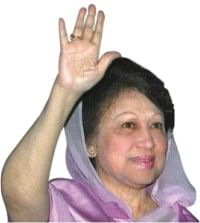 BNP Chairperson Khaleda Zia yesterday hoped that the four-party alliance would regain power through the upcoming election securing two-thirds majority in parliament.
"I started polls campaign across the country on December 12. I have witnessed high tide (of public support) in favour of 'sheaf of paddy' (BNP's poll symbol). Inshallah, we will go to power again with two-thirds majority," the former prime minister said at an election rally at Karwan Bazar in the capital.
Khaleda said, "The greatest opportunity to save the country is coming on December 29. And people have to elect a truly representative government that can solve the problems the nation has been facing for the past two years."
She also addressed campaign rallies at Bhashantek, Green Road, Hazaribagh, Lalbagh, Armanitola, Motijheel, Madartek, Madhubagh and Mohakhali to introduce the BNP-led alliance candidates in the city in the coming polls.
At the Hazaribagh rally, Khaleda said, "A certain party claimed that the present caretaker government is the outcome of its movement. Prices of essentials have shot up during the tenure of this government. And if that party comes to power, there might be further price hike and a famine like the one in 1974 (when Awami League was in power)."
She went on, "If you (people) vote for the four-party alliance (led by BNP), then the country will see development, investment, setting up of industries, and you will live in peace."
Addressing the rally at Lalbagh, Khaleda praised the four-party candidate for Dhaka-7 constituency Nasiruddin Ahmed Pintu, now in jail facing several criminal charges. Pintu has done many development work in the area but he has been detained for months without trial, she said. "Now you (voters) can get him released by casting vote for him."
Thousands of four-party supporters, workers and leaders in processions, and carrying 'sheaf of paddy' joined the rallies.
The BNP chairperson urged people to vote for the alliance to ensure development of the country and to 'protect' its independence and sovereignty.
Criticising the 1/11 changeover, she said the country's economy has been destroyed, political leaders have been harassed by filing cases against them and businessmen were also thrown into jail in the last two years.
As part of her polls campaign, Khaleda will visit northern districts including Bogra, Gaibandha, Rangpur, Lalmonirhat, Kurigram, Nilphamari and Panchagarh today.