<i>Eid releases: Dhaliwood predicts profit</i>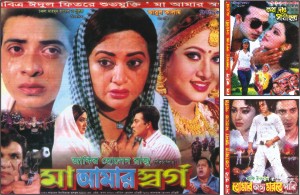 After a decade of slumped trade, the film industry in Bangladesh is expecting a pick-up this coming Eid. People in the mainstream film industry, otherwise known as 'Dhaliwood', are hopeful to reset cinema as one of the major sources of mass entertainment during the Eid festivity.
"After the recent massive drive taken by Film Censor Board against violent and vulgar film, most of the movies that got approval from Bangladesh Film Producers and Distributors Association (BFPDA) for the Eid are either romantic or family drama. Only a few action movies will be released," said BFPDA President Nasiruddin Dilu.
The office secretary of BFPDA, Mahbubul Islam, informed that 15 films have received approval from BFPDA for Eid release. The movies include Moner Shathey Juddho, Katha Dao Shathi Hobey, Meye Shakkhi, Astrodhari Rana, Premer Badha, Priyo Shathi, Danob Shontan, Rakto Chosha, Osman, Tomar Jonyo Mortey Pari, Maa Amar Swargo, Kopal, Bullet, Aha and Ekjon Shongey Chhilo. The most noticeable 'change' is the title of the movies, as compared to that of the movies of past years.
The last two movies of the above list are Impress tele-film productions. Aha, directed by Enamul Karim Nirjhar, will be released in one theatre and Ekjon Shongey Chhilo will be aired on Channel-i. "Of the rest, eight or nine movies will be eventually released in over 700 theatres across the country. Others will be released later," said Mahbubul.
Directed by Ahmed Nasir, Moner Shathey Juddho, a romantic film, features Manna, Purnima and Bapparaj in the lead roles. The movie is expected to be a blockbuster and will simultaneously run in 35 theatres. Another expected Eid blockbuster is Sohanur Rahman Suhan's film, Katha Dao Shathi Hobey. The cast includes Shakib Khan, Opu Biswas, Ahmed Sharif and Misha Sawdagor.
Like other prominent members of Dhaliwood, a film industry worth Tk 100 crores, filmmaker Sohanur Rahman Sohan also expects profits from his film. Sohan said, "Shakib-Opu will emerge as a popular duo through my movie. I've made 35 prints of the film and getting enormous response from the theatre agents."
Sohan further claimed that right now the movie industry is going through a potential 'new era'. "During the last few months only the decent, entertaining films with family values have done profitable business. Women are the major viewers of this genre. It indicates that women are coming back to theatre. As the women do not go alone to the movies, feature films that can attract them become blockbusters. We see a good numbers of films targeting the female audience on the list of potential Eid releases and we can hope for good returns," he said.
Actor Shakib Khan is in four other movies -- Tomar Jonyo Morte Pari, Kopal, Maa Amar Swargo, Danob Shantan -- which are also set to be released on or around Eid.
After many years, noted actress Babita is playing a central role in the movie Maa Amar Swargo, directed by Zakir Hossain Raju. Babita plays the title role of the 'mother' in the film. Popular duo Shabnur-Riaz is the highlight of Meye Shakkhi, directed by Malek Biswas. Model Sadya in her debut film Tomar Jonyo Morte Pari, directed by Safi Iqbal, may emerge as a promising actor. In the film she is paired with Shakib. Shabnur-Shakib duo is featured in Kopal directed by Hasibul Islam Mizan. Uttam Akash's romantic action film Danob Shantan stars Shakib, Poppy and Omar Sani in the major roles.
Osman directed by M.B. Manik, Nilu Shimul's film Astrodhari Rana, Niranjan Biswas' movie Rokto Chosha and Bullet directed by Ahmed Ali Mondol are the action movies set to release on the occasion of Eid, running at a few theatres in the district towns and remote areas.
Non-A lister actors like Amit Hassan, Prince, Sohel, Alek, Monika, Shakiba, Polly, Shahed, Ratna, Moumita and others play central roles in films such as Premer Badha directed by Zafar Al Mamun and Priyo Shathi directed by G. Sarkar, also set to run at theatres in remote areas.
Another aspect of this year's Eid film market is the decrease in the number of new releases. Last year 19 films were approved for Eid release. Explaining the reason behind the decline in numbers, Nasiruddin Dilu said, "As FDC has stopped giving services in credit, a producer now needs more readily available cash to make a film. Only the big investors are producing films. Moreover, after Film Censor Board's strong move against vulgarity, mediocre directors are not making films."
Moreover, sources related to the industry informed that this year the producers and distributors hope to do business without much hassle, as no politically backed syndicate will meddle in the Eid releases, like previous years.
Nasiruddin Dilu is hopeful that the Bangladeshi film industry will see better days, provided piracy is strongly controlled and the environment of movie theatres improved.