War heroes vow to resist war criminals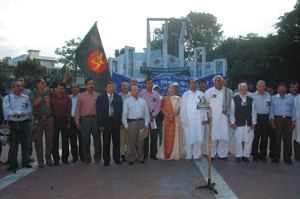 Freedom fighters yesterday took oath to resist the war criminals getting elected in the upcoming parliamentary and upazila elections.
Sector commander Maj Gen (retd) KM Shafiullah administered the oath at a meeting organised by the Sector Commanders' Forum (SCF) at the Central Shaheed Minar yesterday marking the Freedom Fighters' Day.
The freedom fighters said they would urge people not to vote for the war criminals in the upcoming parliamentary and upazila elections and continue their movement until the war criminals are brought to book.
They said they would carry on their fight to build a Bangladesh based on the dreams of the liberation war.
They also condemned the removal of Lalon sculpture in front of the Zia International Airport and attack on sculpture Balaka by fundamentalist groups.
Gen KM Shafiuulah, commander of 'S force' in the liberation war, said the people must not let the war criminals make it to the parliament.
Maj Gen (retd) CR Dutta, sector-4 commander in the liberation war, said the war criminals in the country have not been tried because of a split within the freedom fighters.
Communist Party of Bangladesh (CPB) President Manjurul Ahsan Khan said although pro-liberation war political parties had been in power several times, the war criminals were not brought to book. If they are voted to power this time, they should try the war criminals, he added.
Workers Party of Bangladesh (WPB) President Rashed Khan Menon said the war criminals and their accomplices must be defeated this time.
Sector commander Lt Col (retd) Abu Osman Chowdhury, Jatiya Samajtantrik Dal President Hasanul Haque Inu, SCF Chief Coordinator Lt Gen (retd) Harun-ur-Rashid, Bangladesh Muktijoddha Shangsad Chairman Abdul Ahad Chowdhury, Ekattorer Ghatak Dalal Nirmul Committee President Shahriar Kabir, Bangladesh Mohila Parishad president Ayesha Khanam, among others, spoke.
Meanwhile, various freedom fighters' organisations and political parties observed the Freedom Fighters' Day reiterating their demand for trial of the war criminals.
WPB, Muktijoddha Oikya Parishad, Miktijoddhader Dabi Bastabayan and Muktijoddha Dibosh Udjapon Jatiya Committee, Jatiya Ganotantrik League, Bangladesh Muktijoddha Ainjibi Parishad placed wreaths at the martyred intellectuals' memorial at Mirpur at around 8:30pm and at the Shikha Chirantan at around 11:30pm.