BB makes credit costlier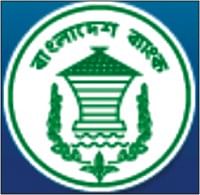 Bangladesh Bank (BB) apparently tightened monetary policy by raising the money purchase rate by 0.25 percentage points yesterday.
The central bank hiked the reverse repo rate to 6.75 percent from 6.50 percent after a two-year pause.
A reverse repo rate is the interest rate earned by a bank for lending money to the central bank in return for government securities. A rise in the reverse repo or repo rate means a squeeze on credit from financial institutions to the private sector, which makes loans costlier.
The increased rate applied to yesterday's auction and the BB mopped up Tk 300 crore from the money market through the auction of reverse repo for commercial banks and financial institutions.
The move came shortly after the International Monetary Fund's suggestion to rein in private-sector credit growth. IMF said it was concerned over continued growth in credit that reached 27 percent.
BB officials also admitted that a shift in the monetary policy stance -- from expansionary to contractionary -- had been made to slow credit growth and control inflationary pressure.
"This is a kind of tight monetary policy stance," a senior BB official told The Daily Star. "The move will also help contain inflation."
The official said the central bank has no other effective tool to check inflationary pressure.
Earlier in a pre-emptive measure to limit liquidity expansion, the central bank had raised the repo rate (money sale rate) from 8.5 percent to 8.75 percent on September 17 after a period of more than three years.
According to BB statistics, the private sector credit growth continued to be high at 27 percent at the end of September 2008. Credit disbursed by private commercial banks increased 38 percent during the period.
Although the IMF welcomed the repo rate increase of 25 basis points in mid-September, it said the move had not been effective in reducing liquidity in the banking system with reserve money increasing by 20 percent at the end of October.
"BB will still have to consider more active efforts in managing domestic liquidity to reduce inflationary pressures," the IMF said in its policy suggestion this month.
President of the Bankers Association of Bangladesh (BAB), a forum of bank owners, believed the BB had taken the move to squeeze credit growth.
"This is a suicidal decision for Bangladesh,''Nazrul Islam Mazumder said.
But Annisul Huq, president of the Federation of Bangladesh Chambers of Commerce and Industry, believes the decision was meant to increase the reverse repo rate to tighten the credit growth, which he said was for financing consumer goods, not industrial ones.