High fees drive remittance into informal channels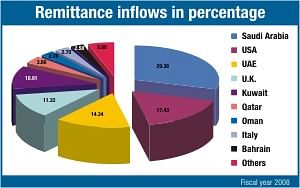 Speakers at a seminar said yesterday high fees charged by financial institutions and low level of banking penetration among rural people prompted non-residents Bangladeshis (NRBs) to use informal channels to remit money from abroad.
They also identified an insufficient number of ATM booths and lack of confidence in banks as the setbacks that discouraged people from using the banking channel in remitting money.
"The reasons why a large part of remittance transactions takes place through informal channels instead of financial institutions, include high fees charged by banks and financial institutions and low-level of bank penetration among the rural poor," said Jamaluddin Ahmed, treasurer of Bangladesh Economic Association.
The seminar, held at the Bangladesh Economic Association (BEA) auditorium, focused on migrant remittance.
The association's president Dr Quazi Kholiquzzaman Ahmed and General Secretary Prof Abul Barkat also spoke at the seminar.
AKM Shameem, head of Corporate Banking for Mutual Trust Bank, said expatriate workers prefer unofficial channels mainly because of better exchange rates and faster receipt of the remitted money by the beneficiaries.
According to a survey, 46 percent of remittance is channeled through official sources, 40 percent through hundi, 8 percent by migrant workers themselves and 4 percent through friends and relatives.
Since 1976, about 8.5 million Bangladeshis have been working abroad. Saudi Arabia, USA, UAE, Kuwait, Oman and Bahrain top the list of countries where most Bangladeshis are working.
The speakers suggested formation of a cell under Bangladesh Bank to centrally control remittance transactions of all the banks.