Japan firm buys low-end clothes from Bangladesh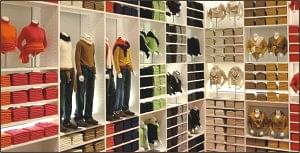 Japanese clothing giant Fast Retailing Co, mostly known by its brand name Uniqlo, has recently started outsourcing low-end products from Bangladesh to boost its sales worldwide.
The company plans to treble its overseas sales within the next two years through selling cheap garments amid global financial recession when consumer confidence is drifting into low.
The company's new business plan to brace for low-cost management, and the shortest and cheapest manufacturing and marketing strategy has led it to Bangladesh, a high official of Fast Retailing said.
It has opened its local office in Dhaka in September this year.
The company will also start outsourcing home furnishings and fashion accessories from Bangladesh soon, said Koji Yamamoto, an official of Fast Retailing Co in Dhaka.
Besides Uniqlo, such global retail giants as GAP, Wal-Mart, JCPenney, Hennes & Mauritz and NEXT are already operating in the country.
A high official of Fast Retailing said Bangladesh would be the Uniqlo's outsourcing partner to supply clothes both to its Japanese retail shops and other overseas outlets in India and Russia.
"Uniqlo is market leader for low-cost clothes in Japan. As the income of Japanese consumers is going down, they are opting much for low-end products. Bangladesh can be the premium outsource destination for such low-cost products," said President of the company Tadashi Yanai recently.
He said the balance of power in the global economy is having an impact on fast growing and developing economies such as China, India and Bangladesh.
"Now you can't expand globally without having production bases in countries like Bangladesh, Vietnam and India."
Uniqlo provides fashionable, high quality, basic casual clothes that anyone can wear anytime anywhere, and always at the lowest possible market prices, said Yamamoto.
This concept of an unwavering focus on quality and value has guided Uniqlo actions since the establishment of its first store in 1984 in Hiroshima, Japan, the official added.
Today Uniqlo has grown to over 760 stores worldwide and is a household name in Japan, said Yamamoto.
From T-shirts and sweaters to denim, outerwear and trend items, all of the clothes are made according to exacting Japanese standards for quality and come in a variety of colours and styles, according to the official.
Uniqlo now is looking to boost its appeal through development of more large-format stores with shop floors of 1,650 sqm to 3,300 sqm.