Hamilton made it at final corner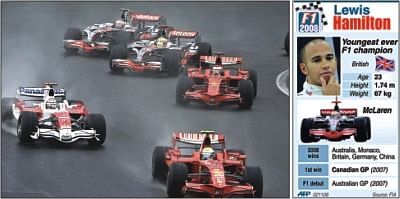 An emotional Lewis Hamilton admitted he was virtually lost for words and did not know he had succeeded Sunday when he became the youngest man to win the Formula One drivers' world championship.
The 23-year-old Englishman, needing a top five finish to be champion, only seized fifth place for McLaren Mercedes again, after losing it, on the final lap of a tense, dramatic and rain-hit Brazilian Grand Prix won by his title rival and local hero Felipe Massa of Ferrari.
As Massa triumphed and then celebrated, briefly, Hamilton caught and passed German Timo Glock of Toyota to turn his day from despair to joy after earlier appearing to have controlled his own race by cruising towards fourth or fifth place.
A late shower of rain then created chaos and saw Hamilton change tyres and fall back to sixth before he made his final desperate charge to recover and claim fifth.
But as he said afterwards Hamilton was not even sure that he had won the title when he finally crossed the line in teeming rain and near-darkness in front of 100,000 spectators at the Interlagos circuit.
"We did it, we did it," he shrieked. "But honestly I did not know if we had when I crossed the line. I was thinking 'shoot!' I am just not sure - have I done enough? Did we get it?
"And they told me and I felt just ecstatic. We had made it. You can forget everything else that has happened before now. This is the best and it was the toughest race of my life.
"I have to thank everyone, my Dad, my family, my fans and supporters back home and the team. It would be great to do it again in the future, but I am not sure if my heart can take that final lap all over again."
His father Anthony Hamilton who has guided his career all the way from junior karting days when they were a poor family from a council estate in Stevenage, England, to the top, said: "This proves to everyone else, like us, that it can be done.
"It has come from 16 years of hard work and dedication and respect."
Massa who finished the season in style with a dazzling win in front of his home crowd ended up in tears as he stood atop the victors' podium.
He had won six races this season to Hamilton's five but missed the championship 98 points to 97.
"It has been such an emotional day for me, I drove a perfect race and everything went to well," he said.
"Then the rain came at the end again and I knew what was happening. We thought it was going to happen and it almost did, then I saw Lewis passing Timo Glock and I suddenly had such a lot of emotions.
"I was so emotional, but I am proud of the team, of my team, my family, the people here today and the whole season and the championship. It is one more day of my life, Lewis has won it and I am going to learn from this."
Driving with great control and judgement, Hamilton avoided the early problems that wrecked his bid to become the first rookie champion last year as he steered his McLaren Mercedes to glory after a tense contest and an extraordinary final lap.
Only on that final lap did Hamilton regain a place when Glock lost 18 seconds in his Toyota and slipped behind Hamilton.
As well as being the youngest champion, Hamilton also became the first black Formula One title holder on a stirring afternoon in front of an impassioned 100,000 crowd at the Interlagos circuit.
The race, run in unpredictable wet and dry conditions, was won comprehensively by his nearest rival and local hero Massa.
Hamilton allowed Massa in his Ferrari to run away at the front and claim his sixth win this year and the 11th victory of his career.
Massa was followed home by two times champion Fernando Alonso of Renault and third placed Ferrari team mate and outgoing champion Kimi Raikkonen.
German youngster Sebastien Vettel was fourth for Toro Rosso after passing Hamilton in the final laps and Hamilton fifth, just, after his late recovery when Glock slowed down and finished sixth.
Hamilton's McLaren teammate Heikki Kovalainen of Finland came home seventh.
Hamilton's triumph made him first Briton to take the world title since Damon Hill in 1996 and the first McLaren champion since Finn Mika Hakkinen in 1999. He is Britain's ninth champion.
The previous youngest champion was Alonso who was 24 years, one month and 27 days old when he won the title in 2005.
Hamilton was 23 years, nine months and 26 days old as he drove to glory on Sunday.
Massa had been hoping to be the first Brazilian champion since Ayrton Senna in 1991.
While Hamilton and Massa will be back next season for Scot David Coulthard this was the last race before retirement but the veteran winner of 13 grand prix did not make it to the first bend after slipping off when his Red Bull was hit by Nico Rosberg's Williams.