NBR mulls online tax system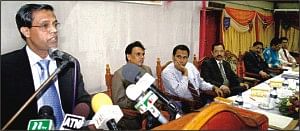 The National Board of Revenue (NBR) considers introducing a credit-based online tax system to enable people to submit their income taxes from home.
"We are examining how we can go for an online tax system," NBR Member Mohammad Alam told a discussion in the port city yesterday, marking the launch of the revenue board's divisional-level campaign.
At the function held at the auditorium of Institution of Engineers, around 2,100 taxpayers of Chittagong handed over income tax returns worth Tk 12.5 crore to NBR Chairman Mohammad Abdul Mazid.
Mazid said the government would reward the highest individual taxpayers of all six city corporations or divisional headquarters soon.
"Besides, the new taxpayers will get an exemption for three years and no question will be raised against them during this period once they submitted spontaneously their taxes," he said.
The NBR chief added that the November 6 deadline for submission of income tax returns would not be extended further.
Presided over by Md Shah Alam Khan, customs commissioner (import) of Chittagong, the meeting was also addressed by former president of Chittagong Chamber of Commerce and Industry (CCCI) Ali Ahmad, BGMEA First Vice President MA Salam, Bangladesh Shipping Agents Association Chairman Parvez Sajjad Akhter, C&F Agents Association President AKM Akhter Hossain, Taxes Bar Association President Md Badiuzzaman and businessman and the region's highest taxpayer Nani Gopal Saha.
Former CCCI President Ali Ahmad sought more rationalisation of the tax system and demanded reducing the value-added tax to 5 percent from the existing 15 percent.
BGMEA leader MA Salam stressed the need for better relationships between the taxpayers and tax collectors to create an effective tax culture in the country.