Nadal advances in Paris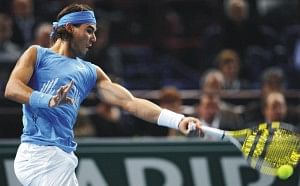 US star Andy Roddick clinched his season-ending Shanghai Masters Cup berth Thursday, while world number one Rafael Nadal, second-ranked Roger Federer and Andy Murray joined him in the quarterfinals of the Paris Masters.
Roddick beat Gilles Simon of France 6-3, 7-5, Nadal swamped French hope Gael Monfils 6-3, 6-2, fourth seed Murray defeated Spanish 15th seed Fernando Verdasco 6-3, 7-6 (8/6) and Federer knocked over Marin Cilic of Croatia 6-3, 6-4 to respect the form book.
Nadal was never in serious trouble as he staved off a triple break point to land the first set and then did likewise in the fourth game of the second set to put Monfils, whom he had already beaten twice this year for the loss of just five games, firmly in his place.
The modest Spaniard, who now meets Russian sixth seed Nikolay Davydenko - a 6-1, 6-1 winner against unseeded Czech Tomas Berdych in a battle of former champions - still insists Federer is the best, despite what the rankings say.
"I have to win a lot of Grand Slams and Masters Series to say I'm better than him," insisted the Mallorcan, who finally dislodged the Swiss from the rankings summit in August after edging him in a memorable Wimbledon final for his fifth Slam before Federer won his 13th at the US Open.
Roddick's qualification for China means two of eight Shanghai spots remain open.
American James Blake and Frenchman Jo-Wilfried Tsonga are waiting in the wings after making the Paris quarters, Tsonga shocking his third-ranked Australian Open final conqueror Novak Djokovic in three sets.
"It's always an honour to qualify - I'm looking forward to it," said Roddick, reaching the final season showdown for the sixth straight year.
The Nebraskan's win sends him through to a meeting here with Tsonga, who ousted Serbian third seed Djokovic 6-4, 1-6, 6-3.
Federer, fresh from winning in Basel but who has never been past the quarters here, said he believed his game was coming to the boil.
Blake, a 6-4, 6-4 winner over Philipp Kohlschreiber, is hoping to edge Tsonga out of a place in Shanghai - but the Frenchman says he'll keep pushing right to the last.
"I really want to do something big here - I always said I feel right at home at Bercy (stadium)," said Tsonga, who vowed to give nothing away against Roddick.