Jose wants to be Italian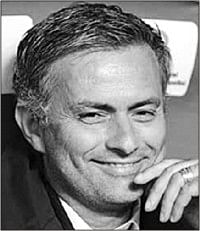 Inter Milan coach Jose Mourinho was up to his old tricks again on Saturday, toying with the Italian press and claiming he needs to become more Italian.
Mourinho was well known for his sound bites during a little more than three years in England, often providing the content for column inches with his outrageous claims.
The Italian press have not taken to him yet and were particularly outraged when he failed to turn up to a post match press conference earlier in the season, sending his assistant Giuseppe Baresi instead.
And ahead of Sunday's visit of Genoa, he poked fun at the Italian way of doing things when refusing to divulge his formation for the match.
"I'm Italianising myself, I need to become more Italian, I'm also trying to become a nicer person," he said.
"We have to respect our opponents, they know how to play, they've got great players and always play good football.
"Hence, the match will be tough. Hopefully Inter will have more of the ball and more chances but we still have to defend well because Genoa know how to make the most of their opportunities."
Mourinho refused to be drawn on the wisdom of AC Milan's pursuit of David Beckham, claiming it wasn't his concern.
"If Beckham comes to Milan I'll be happy, it will be a pleasure to meet him because he's a very polite and calm guy," he said.
"It's not my problem if his choice is good for him or if Carlo (Ancelotti, the AC Milan coach) will be happy or not.
"I only think about Milan twice a year or maybe three or four times if we meet in the Coppa Italia.
"I don't care who Milan sign. I'm Inter's coach and that's it, I don't want to be any more than that."
Mourinho also hit out at the French as he is without midfielder Patrick Vieira, who returned from international duty last week injured.
"He's getting a bit better but he can't play yet. I also had French players at Chelsea and it was always the same thing.
"They came back injured from international duty or they got injured a few days later.
"I'm worried about losing Vieira for several more weeks."
Mourinho said he hoped France wouldn't call up the former Arsenal and Juventus midfielder for a friendly in November.
"France's next official match is in 2009 and given that the player has always had problems when he goes (on international duty) the most logical thing would be to leave him to work at his club and call him up in 2009," he said.
"But I bet for this friendly in November he'll be called up. When I arrived here Vieira was injured with the national team, then he came back playing very well, he played four matches in a row for the first time in many years, he was really playing well.
"Then he got injured again and now he's out."
Mourinho is also without Esteban Cambiasso and Luis Jimenez but Brazilian full-back Maxwell is available again and goalkeeper Julio Cesar will take over in goal from Francesco Toldo, who made a rare appearance in midweek against Anorthosis Famagusta.