Controversies shroud Lalon and his songs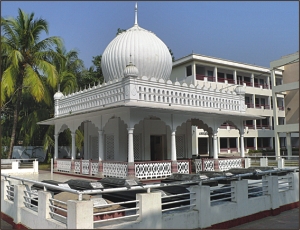 Today marks the 118th death anniversary of Fakir Lalon Shah (1774-1890), the most prominent guru of the five schools under Baul traditions. Fakir Lalon Shah's calibre lies in his ability to raise some universal questions in the simplest of ways.
Nowadays, preservation of the authentic tunes and lyrics of Lalon songs has become a hot topic, after UNESCO proclaimed the traditional Baul songs of Bangladesh as one of the 43 masterpieces of oral and intangible world heritage. Unfortunately most of the research done on Lalon and his songs are quite controversial.
The confusion related to Fakir Lalon Shah and his philosophy surfaced after a few scholars, NGOs and government institutions such as Lalon Academy Complex and pseudo Bauls started promoting different interpretations of Lalon's verses as well as organising programmes on Bauls with the primary objective of drawing foreign funds.
Questions have been raised regarding the authenticity of lyrics, tunes and philosophies of Lalon songs. Several intellectuals have interpreted Lalon's biography and philosophies in different ways, which is confusing for the average individual.
A controversy regarding Lalon's religion continues to ensue, since a few scholars during the Pakistani period wanted to label him as a Muslim. Lalon expert Dr. Abul Ahsan Chowdhury, a teacher of Kushtia University told The Daily Star, "Lalon did not disclose his religious background even to his close associates. Rather, in many verses he took a stance against any form of institutional religion except humanism."
Fakir Anwar Hossain, known as Mantu Shah, a cult leader who is also the convenor of Lalon Mazaar O Shebashadan Rakkha Committee, said, "He was neither a Hindu nor a Muslim, rather developed a new doctrine called Ohedaniat, which we follow. However, we are not allowed to visit the shrine of our Guru Lalon Shah, as some infamous influential locals have barred it."
Ohedaniat combines different traditions of devotional rites such as Shahajiya of Buddhism, Shahajiya of Vaishnavism, Sufism and several other. And the verses by Lalon are called Kalaams by his followers, which are the doctrines of the devotional rites of Ohedaniat.
Fakir Lalon Shah is unique in that in his verses he has interpreted dehotatwa in his own way. Lalon in many of his verses on dehotatwa has implicitly provided guidelines on how to go beyond the 'physical state' to attain the metaphysical. A layperson perhaps cannot fathom the inner meaning, but these songs are the base of secret devotional rites, centring on the belief that the human body is the seat of all truth.
Many scholars have added new words and many have written verses following Lalon's style and claimed them as Lalon's. Moreover, a few have written Lalon's biographies with serveral contradictions.
The Lalon Shah entree in the Banglapedia, national encyclopaedia of Bangladesh, reveals, "As a young boy, Lalon caught smallpox and was abandoned in a critical condition. Siraj Sain, a Muslim fakir, picked up the child and nursed him back to health."
In fact it was not Siraj Sain, but Maulana Malam Shah who picked up the child and adopted him, and Shiraj Shah was Lalon's mentor.
When Professor Sirajul Islam, chairman of Asiatic Society of Bangladesh was asked to comment on the issue, he told The Daily Star, "We have noticed that one Lalon exponent's research varies from the other, however, everyone claims his work as the 'most authentic' one. We will crosscheck the issue."
And the correct number of Lalon songs is always a controversial issues as some Bauls claim the number of songs composed by Lalon to be up to 10,000 whereas veteran Lalon devotees such Fakir Bader Shah and Mantu Shah claim the number is just over 2000.
The problem is that after so many years of Lalon's death many pseudo Bauls have labelled songs composed by other Baul Gurus as Lalon's. For example, many songs composed by Gopal Shah, Adam Chan, the followers of Sati Mayer Ghar, have been later claimed as Lalon's by pseudo Bauls in India.
"Many songs that conclude with words "Lalon boley" are not essentially composed by Lalon Shah. The diction and philosophy delivered in these songs are totally different from the authentic verses by Lalon. Many Bauls have added "Lalon boley" in their own compositions to popularise the songs, a phenomenon that made the documentation of authentic Lalon songs more difficult," said Lalon expert Dr. Abul Ahsan Chowdhury.
Mantu Shah has preserved authentic lyrics of Fakir Lalon Shah in his book titled Lalon Sangeet (three volumes). He is using the manuscripts of Fakir Maniruddin Shah, a direct disciple of Fakir Lalon Shah. Maniruddin Shah was authorised by Lalon to note down the verses, for the documentation.
Mantu Shah has been working on the documentation since 1960. To quote him, "I've travelled to different areas both in Bangladesh and India in search of Fakir Maniruddin Shah's manuscripts. So far I've found 20 manuscripts in the personal collection of the Fakirs as well as scholars and common people."
Professor Dr. Abul Ahsan Choudhury said, "Most of Fakir Maniruddin Shah's manuscripts are now untraceable. It is an appreciable effort by Mantu Shah, who under the guidance of seasoned Fakirs and Lalon singers is documenting the authentic lyrics of Lalon. He has so far presented over 800 songs, which is the largest documentation of Lalon songs in the country."
Moreover, authenticity regarding the tunes of Lalon songs is also equally controversial. Three types of tunes of Lalon songs are familiar in the country: Akhrai tradition, blending of Akhrai tradition and classical music and fusion of western music with Akhrai tradition.
As Akhrai tradition is oral, the tunes vary from singer to singer. And tunes of Lalon songs presented by the traditional bauls is different from that of the urban Lalon singers such as Lalon exponent Farida Parveen, who try to blend classical music with Lalon songs for a more polished presentation. And a few rock/fusion bands these days are trying to blend the Akhrai tradition with western music.
According to the experts, Lalon composed about 2000 verses. The manuscripts by Fakir Maniruddin Shah were composed by another disciple Fakir Manik Shah. At that stage, verses were considered simply as the manifestation of discourse of Ohedaniat. Subsequently, Fakir Maniruddin Shah, and his disciple, Fakir Khoda Bakhsh Shah, attempted to put these Kalaams into a particular frame of music. Khoda Bakhsh's disciple, Amulya Shah, was a reputed musicologist who set the Baul songs, in particular Lalon songs, to music. These songs were further developed by his disciples.
Analysing these facts, experts believe that it is imperative that all of the manuscripts of Fakir Maniruddin Shah should be collected from personal collections and then preserved. Lalon music experts must be involved to verify the authenticity of the lyrics as well as the tunes.