Cost of office space soars high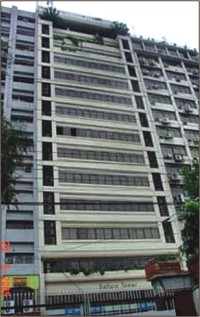 Real-estate companies construct increasing numbers of commercial buildings to meet growing demand for office space in the capital. The high cost of office space makes business expensive.
Commercial buildings are more in demand than residential structures, but still in short supply since the government permits the building of commercial structures only in officially-declared commercial locations.
"Due to huge demand for office buildings, all big real-estate companies have multiple projects on commercial buildings to meet demand," said Tanvirul Haque Probal, president of Real Estate and Housing Association of Bangladesh (REHAB).
Bay Developments Ltd, Concord Group, and Orion Group are on the list of big real estate companies, now concentrating on building commercial buildings.
Although commercial buildings are being constructed in huge numbers in other locations, rents and prices of such buildings are still high in prime-locations such as Gulshan, Banani and Baridhara due to non-availability of office space, industry insiders said.
"The floor space of our 15-storey commercial building is around six-lakh square feet and we hope to make it ready for use by January next year," said Mostafizur Rahman, marketing manager of Abdul Monem Limited, a real estate company.
"Our original plan was to build a 20-storey building with a helipad on the roof. But we could not implement our original plan due to the restriction of Civil Aviation Authority," he added.
Mominul Haque, brand executive of Shanta Properties Limited, said the company is constructing a commercial building in Gulshan, which will have modern car-parking facility, central security system and high-speed internet.
Concord has two commercial buildings ready for sale: one located in Dhaka and the other in Chittagong, officials of the company said.
When the selling price of per square feet of residential space is around Tk 10,000 in Gulshan and Baridhara areas, the prices of per square feet of commercial space are no less than Tk 25,000 in the same areas, said Khalilur Rahman, deputy general manager of Concord.
Rahman said rents of each square feet of commercial space vary from Tk 25-Tk 30 to as high as Tk 200-Tk 250 in the capital. "Booking money for such office space is also very high," he added.
Mahbubul Majid, managing director of Century 21 Realty, a real estate agent, said: "The number of government-declared commercial areas is limited."
People now tend to set up commercial offices in Gulshan, Baridhara and Banani instead of Motijheel, the commercial district in Dhaka.