Getting the whole picture
Photo exhibition by Majority World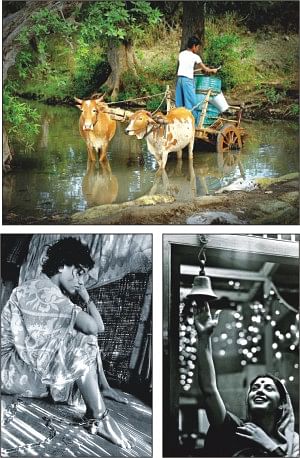 A photo exhibition titled "Majority World Photographs" opened at the Drik Gallery, Dhanmondi on September 25.
Majority World is an online photo agency, a global initiative founded by Drik Picture Library (Bangladesh) and KijijiVision (UK) to provide a platform for photographers from the developing world and the global South.
A series of photographs titled "Below the Poverty Line" by Suchit Nanda, a majorityworld.com photographer from India, is a part of this exhibition. Nanda, who is not a professional photographer, has an IT (Information technology) background. His interest in photography however, was triggered by the introduction of digital photography.
"I have known Shahidul Alam (of Drik) for about a decade now and he encouraged me to join Majority World," said Nanda, adding, "I believe Majority World can play a key role in providing different dimensions of a story, introducing a more complete picture."
On the series, Nanda said, "On an ICT evaluation visit to some villages near Nagpur in Maharashtra state, I discovered that the local people are all pretty much illiterate. They fall under this virtual line that we have drawn called 'The Below Poverty Line'.
"On my visit to villages such as Banur, Pathakila, Pipalna and others I could see the levels of poverty and desperation. Some of these villages get cut off from the rest of the civilisation for nearly 3 months each year due to the monsoon. Healthcare is poor and even the basic amenities like clean water is an ordeal.
"But there is more to these villagers' lives. Despite the hardship and diseases, these individuals have not forgotten how to smile. They grow cotton, weave, store water…life goes on. I wanted to highlight all these aspects of their daily lives and not just poverty."
One of the photos (taken in Nagpur on Jan 30, 2007) from the series shows a young woman bending to pick up a pitcher; this will go on top of two others already on her head. It's a balancing act.
An image (taken at Nagpur on Jan 29, 2007) of a child, with an unwashed face, in a red and white frock, shows her excitement at being photographed.
Photos also show hands making threads, a woman cooking, another nursing a baby and so on. Abject poverty is visible but so is passion for life.
Works of other photographers, from the collection of Majority World, include a vibrant image (by Memo Garcia) of a Mexican pre-conquest dancer in a feather costume.
In another photo (taken by Shehab Uddin on November 23, 2006), Maoist People's Liberation Army (PLA) guards with their guns are seen at the new cantonment site at Shaktikhor VDC in Chitwan, around 200 kms from Kathmandu.
Two black and white images are sure to grab a viewer's attention. One by Md. Main Uddin (taken on Jan 31, 1999) shows a chained woman, seemingly lost in thoughts. Apparently she is psychologically imbalanced and undergoing treatment at a care centre in Kishoreganj, run by Kobiraj Sultan Uddin Bhuiyan. Patients are never given complete baths and provided meagre rice, vegetables. Tabiz and "blessed water" are the only form of treatment available.
The other photograph (by Ayesha Vellani) captures a euphoric moment: A woman rings the bell at the Swami Narayan Temple in Karachi, Pakistan on Diwali. She is actually Muslim, visiting from England and had decided to pose as a Hindu to experience the joys of Diwali.
The exhibition will continue till September 30.