Abdullah Al Mamun passes away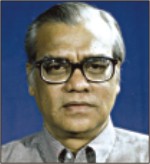 Renowned playwright, actor and filmmaker Abdullah Al Mamun died at Birdem Hospital in the city yesterday. He was 65.
He left behind three daughters, a son and a host of relatives, admirers and well-wishers to mourn his death.
"The country has lost a celebrated cultural personality," President Iajuddin Ahmed said in a condolence message, adding that the departed had played an important role in flourishing a healthy culture in the country.
Mamun was admitted to the Square Hospital on July 10 with acute coronary syndrome coupled with diabetes, hypertension and kidney and liver conditions. Soon after he was diagnosed with subdural haematoma (bleeding in the brain).
A previous bypass surgery kept him from receiving coronary treatment. On July 13, he was transferred to the hospital's intensive care unit (ICU) following a brain surgery.
As his health deteriorated, he was shifted to Birdem Hospital on Tuesday.
As news of Mamun's death spread across the city, relatives, colleagues, cultural activists and acquaintances thronged the hospital.
His body was kept at Birdem mortuary and will be taken to the Central Shaheed Minar today to enable people to pay their last tribute to the drama prodigy.
His namaz-e-janaza will be held at Dhaka University Jaame Mosque after the Juma prayers. He will be laid to rest at Banani Graveyard.
Born on July 13, 1942, in Jamalpur, Mamun did his honours and masters in history from Dhaka University.
He began his acting career in an early age and rode high in all mediums--cinema, theatre, TV and radio.
He wrote his first stage play, Niotir Parihas, in 1950 when he was still a schoolboy. Under the guidance of Shaheed Muneir Chowdhury, he whetted his skills as a playwright, director and actor.
He got involved in the then Pakistan Television (PTV), later renamed Bangladesh Television (BTV), from its very start in 1965.
Mamun wrote 22 stage plays, mostly belonging to the middle-class. Ekhono Kritadas, Tomari, Amader Sontanera, Kokilara, Bibisab, Meraj Fakirer Maa and Mayik Master are few of his popular plays. He directed most of these dramas produced by his Theatre troupe.
Mentionable plays produced by Mamun include Sangshaptak, Pathar Somoy, Jibon Chhobi and Baba.
Abdullah Al Mamun was also a popular filmmaker. He made his first movie Angikar in 1972 and earned much critical acclaim for movies like Sareng Bou, released in 1978.
His other mentionable films include Ekhoni Somoy, Dui Jibon, Sokhi Tumi Kaar and Bihanga.
Mamun held many important positions in several departments. He rose to deputy director general of BTV, director general of the National Institute of Mass Communication (Nimco) and director general of Bangladesh Shilpakala Academy.
In his long performing-arts career, Mamun won many awards including the prestigious Ekushey Padak, Bangla Academy Literature Award, Alakta Sahitya Purashkar and Tarokalok Padak.
A condolence meeting will be held at Bangladesh Shilpakala Academy on August 26.