Music Review
"Monpura": Rustic soul wrapped in urban sensitivity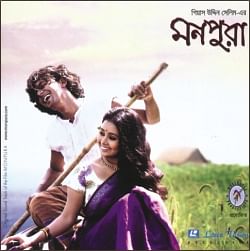 As a singer/musician/composer, Arnob has made a name for himself in the contemporary music scene. With Monpura (directed by Giasuddin Selim), Arnob has made his debut in film music direction.
Being an adept music composer doesn't necessarily equate to being a successful film music director. Soundtracks have often been credited for providing films with that extra edge. In particular when it comes to sub-continental films, soundtrack is considered the soul of the film. Music also lures in audiences thanks to promos and teasers. So, how does Monpura (album produced by Laser Vision) fare as a soundtrack?
The album features nine tracks. The opening song, Nithhua patharey (lyrics and tune "collected", according to the album), is a relaxed stroll on notes by actor Fazlur Rahman Babu. It's not a difficult tune; neither is it pretentious and Babu sounds at ease, in fact passable as a professional singer.
The next track, Jao pakhi bolo tarey (lyrics and tune by Krishnokoli Islam) is all that and then some. The lyricist has taken the ever familiar saying often stitched on nakshi kantha/ hand-held fan or painted on the back of a rickshaw and used it as a refrain in the song. The result: outstanding.
Shonar-o palanker gharey -- likhey rekhey chhilam dwarey
Jao pakhi bolo tarey -- shey jeno bholey na morey.
This song also gives the listener an idea of the album's essence. Monpura is set in a rural milieu -- aiming at intriguing the urban sensitivity. And that's exactly what this song does. As Chandana Majumder croons the intro, accompanied by harmonium and ektara, the vision of an impassioned baulani (female baul) singing under the canopy of an old Banyan tree at a crowded haat emerges.
The "pakhi" is not literally a bird in this case, but refers to the idea of "soul-bird" -- familiar in Sufism or Lalan's songs -- singing night and day of its unfulfilled longing and union, suffering without complaint the sting of solitude. It is this longing that inspires the soul-bird to sing.
And when Krishnokoli takes over, rendering "Megher upor aakash orey, nodir opar pakhir basha, mon-e bondhu boro aasha...", aided by the banshi the song does take off.
The "uncrowned queen of popular folk music" Momtaz renders a ballad, Agey jodi jantamrey bondhu (lyrics and tune by Krishnokoli Islam), with utmost empathy. The asset of the song is vocals, uninterrupted by unnecessary intrusion of instruments. This seems to be the USP of the album. Arnob has deftly utilised the vocalists in all songs and they are the strong suit.
The music director himself does a cover of a familiar folk song Shonar Moina pakhi (lyrics and tune by Mohammad Osman Khan). The fact that the song is easy to the ear shouldn't come as a surprise to those who have heard Arnob's rendition of Shona diya bandhaiyasi ghor or Amar haar kala korlam rey.
Fazlur Rahman Babu returns with Shonai hai hai rey (lyrics by Giasuddin Selim and tune inspired by Mymensingho Geetika). The song has that unmistakable feel of punthi-path. Sample:
Phool kandey, pakhi kandey, kandey gang-er paar
Kandiya kandiya Shonai hoilo jaarey jaar.
It has been a recurring complaint from the urban audience that there has not been much worth listening to in recent years when it comes to film music in Bangladesh. With Arnob and other talented contemporary musicians venturing into film music, hopefully this drought would be over.