Ziaul Haq Zia gets 13yrs for graft
Wife, son jailed too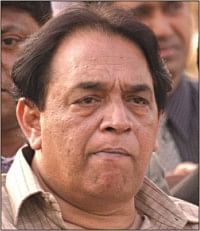 A special court yesterday sentenced former state minister for LGRD and cooperatives Ziaul Haq Zia to 13 years' rigorous imprisonment (RI) for amassing wealth illegally and hiding information in his wealth statement.
Judge M Sirajul Islam of Special Court 7, set up on the Jatiya Sangsad Bhaban premises, also fined the BNP leader Tk 10 lakh, defaulting on which will earn him one more year in jail.
His co-accused wife Nasima Haq and son Mushfiqul Haq Joy were given three years' rigorous imprisonment and fined Tk 1 lakh each, failing which to pay will translate into six months behind bars.
The Anti-Corruption Commission filed the case against Zia with Ramna Police Station on November 22 last year, on charges of making a fortune of over Tk 12.81 crore illegally and hiding information about Tk 5.36 crore of his wealth from the commission.
His wife and son were accused of aiding and abetting him in the crimes.
Zia got 10 years' RI for accumulating illegal wealth and three years' RI for concealing information. The sentences will run consecutively.
The court ordered the authorities concerned to confiscate his ill-gotten wealth.
The jail terms would be effective from the day of their arrest or surrender.
Zia had earlier been sentenced to eight years in a tax evasion case.