Hamas presses on with security crackdown
Clashes in Gaza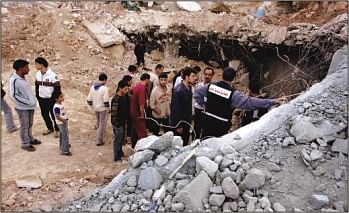 Clashes broke out in Gaza City on Sunday, wounding at least six people, as Hamas-run security forces pressed on with a territory-wide crackdown on rival Palestinian factions after a deadly bombing.
The fighting erupted when Hamas-run police moved to arrest members of the Army of Islam, a small shadowy militant group believed to have links to al-Qaeda.
"Hamas forces came to arrest us early this morning, just after midnight," one member of the group who asked not to be named told reporters.
"There was fighting for several hours, with rocket-propelled grenades, explosions and gunfire, but they did not arrest anyone."
At least six people were wounded in the clashes, said a medic at Gaza's main Al-Shifa hospital who also asked not to be identified.
The clashes came as Hamas cracked down on rival movements it suspected of planting a bomb on Friday night that killed five senior militants and a five-year-old girl in the deadliest Palestinian attack on the group since it seized power in the Gaza Strip in June 2007.
Hamas on Saturday blamed the attack at a Gaza City beach club popular with its members on Palestinian president Mahmud Abbas's Fatah party, which it accused of trying to undermine its rule.
Meanwhile Israeli forces killed a Hamas operative in an early morning gunfight in the southern West Bank city of Hebron, according to Palestinian security officials who said another three people were arrested in the raid.
Hamas's armed wing vowed to take revenge for the killing of Shihab al-Natche, who Israeli media reported was behind a suicide bombing in February that killed an Israeli woman and wounded 11 other people.