Blending the calm of nature with its restlessness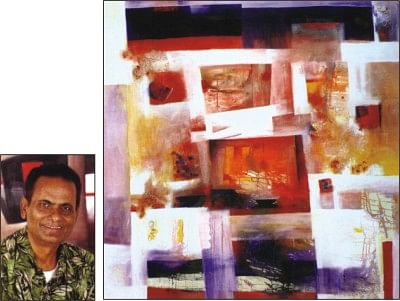 Khursheed Alam Saleem, settled in New York for the past 22 years, is having a solo exhibition of abstract expressionistic works titled, "Images of Nature", at the Bengal Gallery. His works pulsate with chromatic and tactile nuances.
The bold geometrical forms attract one, and later, on closer inspection, one is fascinated by the forms and colours. His rusty reds and overwhelming blues along with the warm yellows blend with one another as contemporary paintings seldom do. The colours merge with one another and are muted, leaving a mosaic like effect. Rectangular shapes derive from his broad strokes. Rocks appear to be shining under layers of water.
As Saleem explains, nature is his constant inspiration, although his paintings are a far cry from the conventional landscapes. He tries to capture the essence of the atmosphere around him, which can be elusive. Through the language of painting, the artist suggests both the elements of calm and restlessness. Some of his works appear to be mystically suspended, while the bold rectangle is a recurrent form.
Saleem says, "People are sometimes confused when they first see my art works. But longer inspection elicits a completely different reaction. Once a connection is established between the image and the reality, between experience and imagination, the last blurry lines of hesitation disappear. Real and unreal become one, the past and future merge.
"I find inspiration in the tiniest detail of nature -- a drop of rain water, a falling autumn leaf, a speck of white in the blue sky, a crack on earth after a prolonged drought, bark of a tree that bears witness to many visitors resting underneath. Each of these elements contains a new story for me and a fresh invitation to embark on a new journey. A viewer can take the same moments depicted on the canvas, process them in his/her mind and experience a completely unexpected discovery."
The lines, dots and texture that Saleem uses are meant to evoke feelings and emotions so that viewers can discover art in nature. The attempt is not a photographic one. His contemporaries at the Institute of Fine Arts included Farida Zaman, Shamim Shikdar and Niama Haque. He is content living in New York and enjoys the competition and exposure that the US offers.
Saleem's feats so far include six solos in China, two in Japan, eight in the US and seven in Bangladesh. He has taken part in 70 international joint exhibitions. His paintings hang in galleries in different parts of the world such as China and Japan. He does his work in his studio, as his mood takes him, using both brush and palette knife, to get the different textures.
Saleem has worked under the print-maker Krishna Reddy in the US and is influenced by Mark Rothko. When he first exhibited in 1982 at Zainul Gallery, his work was impressionistic. In the US, where he felt he could learn more, he works in abstraction. He says that even earlier he was inspired by the works of Mohammad Kibria and Abdul Baset in Bangladesh.
Saleem's exhibition ends on July 29.