Foreign investment in stock market dips 99pc in six months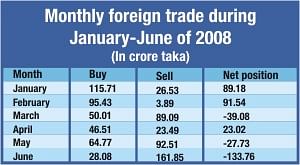 Net foreign or portfolio investment in stock market dropped by more than 99 percent in the first six months of this year because of profit taking by global funds.
From January to June of 2008, the country's premier bourse received only Tk 3.16 crore in net foreign or portfolio investment against Tk 565.50 crore in the first six months of 2007, according to Dhaka Stock Exchange (DSE) statistics.
The portfolio investment declined heavily as the securities market has been witnessing a volatile situation for the last six months, market sources said.
In this volatile situation the global fund managers have stopped buying shares and increased selling of shares.
During January to June of 2008, the foreign investors bought shares worth Tk 400.54 crore and sold shares worth Tk 397.37 crore, while the amount of shares bought by foreign investors during January to June of 2007 was Tk 715.73 crore and the amount of shares sold by them was Tk 150.23 crore.
DSE Chief Executive Officer Salahuddin Ahmed Khan said foreign investment is necessary for an emerging stock market like Dhaka stock market.
According to DSE sources, the banking sector followed by power, pharmaceutical and cement sectors received the most foreign investment.
Most of the foreign investors are fund managers from the US. A number of fund managers from Europe are also investing here, market sources said.
The sources said many of the foreign investors included the Bangladesh stock market in their 'Frontier Five' group of countries (alongside Kazakhstan, Kenya, Nigeria and Vietnam). Apart from, inclusion of Bangladesh in Goldman Sachs 'Next 11' countries is another evidence for international investors' interest to Bangladesh stock market.
Some experts, however, said the portfolio investment should not be welcomed at the current stage of stock market development and given from the local investment.
"We should not welcome such portfolio investment. In 1996's share scam, a huge profit repatriation from the portfolio investment was taken place," said Yawer Sayeed, managing director & CEO of Asset and Investment management Services (AIMS) of Bangladesh, a local fund management company.
Others said there should be some sorts of lock-in system so that the foreign investors cannot sell all the shares at one go as such selling pressure would create negative impacts on the market.