Kosovo issue being mooted
Says Iftekhar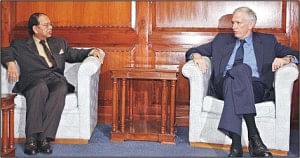 Bangladesh has not yet firmed up its stance on the question of recognising Kosovo's independence despite persistent diplomatic maneuvering by US Ambassador James Moriarty, who met Foreign Adviser Iftekhar Ahmed Chowdhury yesterday for the second time to pursue the issue of recognition of the new Balkan state.
Ambassador Moriarty told reporters that the main purpose of his meeting was to urge the foreign adviser to consider the issue of recognition of Kosovo.
In response, Iftekhar told the reporters, "In such cases, perceived national interest is always the key."
The foreign ministry had already issued a statement on Kosovo, mentioning that the Bangladeshis were overwhelmingly in support of the people of Kosovo for a variety of reasons, he added.
The adviser hoped that a decision in this regard could be taken soon in consultation with other Islamic countries.
However, he admitted the fact that the OIC-member states are split up on the issue of Kosovo's independence, and the last Islamic Conference of the Foreign Ministers held in Uganda failed to reach a consensus on the subject.
He said the Kosovo issue may come up informally at the forthcoming D-8 meeting to be held in Malaysia because the grouping has no formal agenda on it.
Iftekhar also said Bangladesh attaches priority to "perceived national interest -- and the benefits" from such a political matter. He hoped that a formal decision regarding the independence of Kosovo would be mooted soon.
He noted that while the US and some European countries have accorded formal recognition to Kosovo, this has been strongly opposed by Russia, and to a certain extent by China and some others.
Also, the recent meeting of Islamic Foreign Ministers in Uganda failed to reach a consensus on the contentious matter.
Apart from Kosovo, Darfur and Bangladesh's peacekeeping role featured in the talks with the US ambassador yesterday, Iftekhar said.
Moriarty was appreciative of Bangladesh's role in peacekeeping in general, though with regard to supply of some specific equipment to Darfur, such as helicopters, there could be some constraints on the part of Bangladesh.
Bangladesh had offered Bell helicopter for Darfur, which will not be useful over there at the moment. Bangladesh has peacekeepers in Darfur
Iftekhar said Ambassador Moriarty informed him of some additional US support for Sidr-affected region.
"Bangladesh and the US are two friendly countries and there is always much to talk about between us," Iftekhar said.