write-up - AKM Fahim Mashroor
ITES: A time to recognise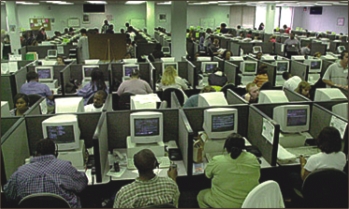 Whenever we talk about Information Technology (IT) in Bangladesh and its prospects for employment creation and export, we often only refer to 'software'. However, that is just a fraction of the total dimensions of the possibilities of IT and what it has to offer to countries like Bangladesh.
ITES, an acronym of IT Enabled Services, is a phrase that is not very well known in the business community and among policy makers. It may be argued that everything in today's modern and computerised world is IT enabled so is it important to introduce a new group of service titled, 'ITES'? I would argue that it is important.
First, let me share a standard definition of ITES, collected from different policy documents from countries (like India) where significant success has been achieved in IT. "ITES are services that are generated by human intensive activities through the use of computerized systems and commercially delivered though Internet. Such services include data processing, computer aided engineering/architectural design, web-enabled services, medical transcription, graphic design & animation, call centre, back office support services like accounts, payroll etc."
Over the last few years, service globalisation has undergone a major overhaul. For decades, 'globalisation' was used to refer to the trading of goods that were physically transported from one country to another. 'Service trading' was only limited to the extent of the movement of people and their income from one country to another. Now, because of the Internet, the concept of globalisation has structurally changed.
Today, services have truly 'globalised'. Services by professionals can be delivered from one country to another without physically having to move.
An airline company in New York is getting its tickets booked by a customer support person stationed in Manila! Or, an engineer sitting in his Kolkata office is designing structures using CAD for an engineering firm at London! All of these are not 'software', these are just ITES.
The success of the Indian IT sector has not only been because of its high quality software programmers, but also because of the thousands of non-IT professionals (like engineers, accountants, call centre agents, graphic designers- even doctors) delivering services to clients across the world over the internet. The ITES export figures for India has crossed $ 10 billion and it has created employment for over 700,000 professionals.
The case of the ITES boom in India, and also in countries like Philippines, Sri Lanka, Vietnam, (of late Pakistan) proves that Bangladeshi policy makers needs to pay attention to the sector.
There are a number of compelling reasons for doing so. Firstly, the ITES sector is highly 'employment intensive'. You don't need a lot of physical capital investment to create an additional ITES employment. A computer, high-speed Internet and workspace are all that you need.
Secondly, the ITES service sectors can employ a huge number of graduates within a short period of time. Every year, over 200,000 graduates are coming out of different academic institutes all over the country. Most of whom cannot be employed in the 'posh' corporate jobs. For social reasons, they also do not want to perform 'physically labor intensive' jobs. You can train a normal graduate and provide an ITES job within a relatively short period (3-6 months; unlike software that requires a few years).
The typical monthly bill that an ITES firm can charge its foreign client is around $500/person. After covering the overheads, this easily leaves $200 (Tk 14,000) as salary for the ITES professional. This is a lot more than what the wage at other export-oriented sectors.
Recently, Bangladesh Telecommunication Regulatory Commission (BTRC) has been encouraging the 'call centre' business in the country. Undoubtedly, it is a praiseworthy initiative. In the proposed national budget, call centre business, along with software, data entry and data processing, has been exempted from income tax till 2011.
However, a 'call centre' is only a fragment of the ITES sector, and a very promising one off course. We need to look beyond that.
Many readers may not know that over the last few years, there have been some other ITES sectors that have achieved fantastic success in the country. A number of companies in Dhaka are currently doing desktop publishing (DTP) advertisement design works for Danish newspapers that are going to be published in the Danish newspapers the next day!
A number of engineers are currently working in the design plans for US construction companies and there is one company whose team of accountants is posting journal entries for a London based accounting firm.
There have been numerous success stories in this arena over the last 2-3 years and at least 50 export oriented ITES companies have started operations and have created employment for over 3,000 professionals with an average salary of over Tk. 14,000, per month.
We need to look beyond a few well known IT service sectors and the government's policy makers need to recognise the prospects of all the potential ITES sectors. This also has to be reflected in the policy documents. To initiate such support for ITES, the National Board of Revenues should extend the tax exemption facility to all the ITES sectors, and not only to software or call centres. BTRC should also include special Internet bandwidth price for all the ITES sectors.
The writer is the CEO of Bdjobs.com