Exhibiting in India with panache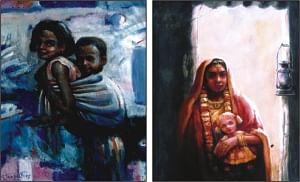 Maksudul Ahsan has had several shows of his painting recently in Indian cities. The first one was at Dhumimal Art Gallery in New Delhi. This was an all India show and Maksud was the only artist from Bangladesh. This art outlet celebrates its 70th birthday this October and he will participate in this too.
Here he had figurative work in acrylic along with charcoal drawing with the subject of an angry bull. "Here I had a good response as also in Ahmedabad in a gallery owned by Dhanvi Jain. I dealt with Indian traditional figures dealing with female figures and their costumes which went down well with the public. The Rajasthan painting had a camel in the backdrop while Bangladesh had banana trees and rivers at the back of a woman in a traditional white sari with a red border. I do abstract side by side with figurative work but it is the figurative that attracts me most. Wherever I go I'm looking at faces and figures and these come first to my mind when I paint. It is human joys and sorrows that I enjoy delineating most," says Maqsud.
In the bull series, that he did sitting in India, he wished to bring out the energy and strength of the animal. He also represented the aggressive qualities of mankind in the animal portrayal. Arrogance and anger prevails throughout the world, Maksud feels.
In a series he depicts people mourning with Gandhi's image looming in the backdrop. There are people mourning the death of a person, while people from various religions mourn for him. Figures such as that of Gandhi or Mother Teresa stand for humanity amidst turmoil and insecurity. He has a "Black" series too where everything is dark to portray the troublesome period that we are engulfed in.
Maksud also participated in a print camp in Kolkata with artists like Prokash Karmakar and Nirmulendu Das. He also dealt with clients in Mumbai galleries.
In August is his solo show at Shilpangan. In October, at the Kolkata Academy of Fine Arts and the Bangladesh Deputy High Commissioner's Office Gallery. He will also be the curator for joint show of Bangladesh and India shortly. In November he has his solo show in New Delhi. In January 2008 will be his exhibit in Ahmedabad followed by an exhibit in Mumbai.