Kashmir issue 'ripe' for resolution, says Bush
Pakistan will not negotiate with militants: PM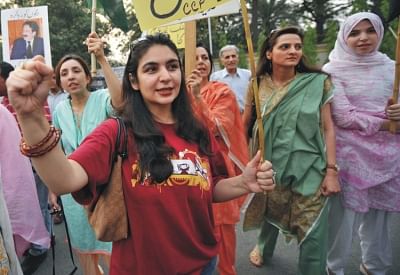 Taking note of "major and significant developments" in the Indo-Pak ties, US President George W Bush has said the Kashmir issue is "ripe" for resolution.
The "Kashmir issue is ripe for solution", Bush was quoted as saying by Pakistani officials during a meeting he had on Sunday with Premier Yousuf Raza Gilani on the sidelines of the World Economic Forum for the Middle East in Egypt.
Bush's remarks came ahead of a meeting between External Affairs Minister Pranab Mukherjee and his Pakistani counterpart Shah Mehmood Qureshi in Islamabad on May 21 to review the composite dialogue process.
During the hour-long talks in the resort of Sharm-el-Sheikh, Bush said he saw "major and significant developments" in Pakistan-India relations, but he did not elaborate.
He said he was happy to note that the two sides had made a lot of progress in their talks on Kashmir and for comprehensive peace in the region.
Briefing reporters after the Bush-Gilani talks, the Pakistan Prime Minister's Special Assistant on Finance Hina Rabbani Khar and Additional Foreign Secretary Zameer Akram said Bush had appreciated the dialogue process between India and Pakistan and said he had no doubts in his mind that Kashmir was "ripe for solution".
Khar said Pakistan's relations with neighbouring countries figured in the discussions between the two leaders, with specific focus on ties with India.
Khar quoted Bush as saying that it was the "right time for the resolution of the Kashmir issue".
Meanwhile, Pakistani Prime Minister Yousuf Raza Gilani vowed on Monday that his government would not negotiate with militants unless they laid down their arms, amid US concerns over Islamabad's talks with the Taliban.
"One thing should be clear," Gilani told journalists at the World Economic Forum for the Middle East. "We will not have a dialogue with militants, we will not have dialogue with extremists or terrorists."
"We only have dialogue with those forces, these tribals, who decomission themselves," Gilani said while on his first overseas trip since civilian leadership took over.
"If they lay down their arms then they are in the mainstream with us."
Gilani's government defeated the backers of President Pervez Musharraf in elections in February and has pledged completely to overhaul the pursuit of what its key US ally terms the "war on terror".