RMG workers block road in Dhaka, Ctg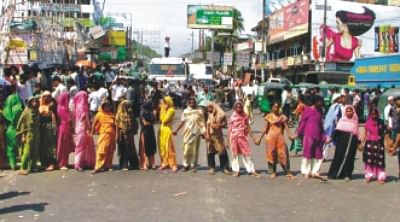 Several hundred garment workers yesterday blockaded the DIT road at Rampura in the capital demanding payment of their salary arrears.
Hundreds of vehicles remained stranded on the road for about an hour due to the blockade.
Meanwhile, garment workers yesterday put up barricade at Dewanhat intersection in the port city for payment of salary arrears disrupting vehicular movement on Sheikh Mujib road for about two and a half hours, reported our Chittagong correspondent.
Police said around 500 workers of Expo Worldwide staged a sit in on the DIT Road at about 10:45am as the factory management did not pay them two months' salaries and overtime bills.
The management earlier had assured them of paying their due salaries by yesterday morning.
The garment workers, however, lifted the blockade after 45 minutes and joined work as the factory owner promised them to pay their dues after 4:00pm following intervention of the law enforcers.
Jahidur Rahman, officer-in-charge of Khilgaon Police Station, said the factory owner paid the workers their due salaries in the afternoon.
Meanwhile, about 400 workers of Chowdhury Apparels in the port city's Ashkarabad area put up barricade at Dewanhat intersection at around 12:00noon demanding payment of three months' salary arrears.
Rina Akhter, a worker of the garment factory, said the authorities on three different dates this month had assured them of paying their salary arrears but failed on all the occasions.
The factory authorities at a meeting on April 23 assured them of paying their due salaries by yesterday morning, said Rina.
But the factory owner and other senior officials left the factory in the morning without paying the workers compelling them to demonstrate on the road, she added.
The barricade resulted in a long tailback stretching over four kilometres from Wasa intersection to Barik Building crossing.
On information, policemen from nearby Double Mooring Police Station rushed to the spot but failed to remove the barricade.
The workers lifted the barricade at about 2:30pm after Deputy Commissioner (DC) (Port) Habibur Rahman went to the scene and assured them of taking necessary steps in this regard.
Later, the factory authorities started paying the workers in presence of law enforcers and BGMEA leaders at about 4:00pm.