In affair with the gorgeous creation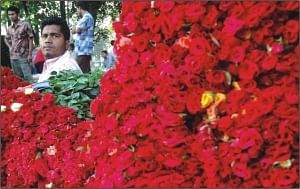 Among the hustle of hectic city life, we often enliven ourselves by looking at those beautiful creations of God, reviving ourselves with the fragrance of it, which cheer us up when we are depressed, which symbolises every emotion that we cannot share with words - flowers. And there are people who work day and night to bring these attractive creations to us, the flower vendors of Dhaka city.
The flowers that we see on the footpaths or in the flower shops are usually bought from Shahbag where they have a garden for plantation and breeding of these flowers. Diverse in colours of red, yellow orange blue and what not, these huge supplies of flowers and their seeds also come from Jessore where flowers are bought from the wholesalers. Some shops even have their own garden and the flowers come directly to their shop.
As the man in the flower shop explains, after pollination, fertilisation and dispersal, these are properly cut along their stems, bundled and hence readied for transportation to the city. Before selling, they properly shape the stems and either sells them separately per stick or make a bouquet. On asking about how long they last, the flower boy became a bit disappointed and answered that some stay for three to four days, others don't usually last long. According to them, the most popular flower is rose. Everyday an average of 50 roses are sold. On Valentines Day, a rose stick was sold for 100tk! He also added laughing, on one occasion a guy bought flowers for his girlfriend and ended up confronting his girlfriend's mother buying flowers from the same shop. "It was a drama worth watching" smiled Miraj, a local flower vendor.
The vendor also added that flower business has very little profit as durability of flowers is not satisfactory and most of the flowers that are bought usually dry up on the way to the city. Sometimes the flowers which are worth five hundred but are on the verge of wilting are sold for two hundred fifty, i.e., half the price.
But in the midst of all these, they love to sell flowers the aroma of which not only make divert them from their exhausting life but also keep them energized for the whole days work.