Sultan 51% happy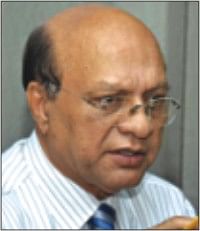 After a long time Bangladesh Football Federation (BFF) president SA Sultan looked a little short of confidence, which is totally uncharacteristic of the man everyone knows.
After five years at the hot seat of football, the outgoing BFF chief met the media just 18 days before the election for what he called a 'self-explanation' of his deeds.
"No one is perfect and I am no exception. I have had success and failure as the BFF president but as I go, I feel I should leave a guideline for the future," Sultan told reporters at the BFF Bhaban yesterday.
Whether Sultan will compete in the April 28 polls still remained an enigma. He has repeatedly said he personally has no wish to contest and his family is also reluctant.
He, however, might go for it if he feels 'he is needed' for the job.
"I have said I do not wish to contest. But its also true I have never said I won't contest," remarked the BFF boss avoiding a real answer when he was asked whether it was his outgoing meeting or start of the campaign for the new election.
It was surprising to see Sultan alone at the briefing but he informed he had invited Anwarul Haque Helal, who resigned as general secretary, and the acting general secretary Manzoor Hossain Malu.
"Helal refused to come. Malu was supposed to be here but I could not contact him today. In fact, as chief executives, they would have been able to give more facts to you. That's why I wanted them.
"Still, in an organisation like this, the president has to take all responsibilities," said Sultan who claimed success in organising a number of tournaments in five years as well as winning goal projects of FIFA, reintroducing school football and youth training and hosting AFC's inaugural Challenge Cup.
He, however, admitted that for the past couple of years, football was hardly on the pitch, frustrating players as well as fans.
Although the BFF introduced the professional football league, it had to compromise with tournaments like the National Championship, which has been held only twice in five years, and the almost extinct Federation Cup. The very popular National League has also been ignored for the past three seasons.
"There are many reasons behind this. The main problem is financial. Also many times, the clubs have disagreed to play because of the same problem.
"The future committee must have a financial plan as well as the assistance of the government. We failed to organise any international tournament in five years because of my own government's obstructions," commented Sultan adding that the BFF received Tk 4.5 crore as sponsorship money for tournaments during his tenure. Also, the FIFA provides 2.5 lakh dollars yearly and the AFC 5,600 dollars per month.
"Without a self-generating finance system, the federation will not succeed.
"Its true there had been no long-term planning and we have been depending on natural talents only. But the federation was much disciplined than the past and we managed to create a democratic environment."
Acknowledging the suspension of the BFF by FIFA, soon after the BNP government named his president, as the darkest chapter in history of Bangladesh football, Sultan said it was better forgotten soonest.
In reply to a question, he said it was at his initiative the AFC President's Cup Group A matches, involving local giants Abahani, were offered to Dhaka but his colleagues were against him in organising the five-day meet this month due to election campaign.
"We have won one SAFF Championship and finished runners-up in the other in five years although our national team performance and the SA Games record is down going. There is no alternative to improve the performance but playing football throughout the year. We have failed to ensure that.
"With all these accounts, I claim to be a better president than the past ones. In the past, presidents were just ornaments who approved decision in meetings. I feel I have changed that. But as a federation chief, I feel I am just 51 per cent satisfied."